Artist Easel for Children
Double Easel with Blackboard.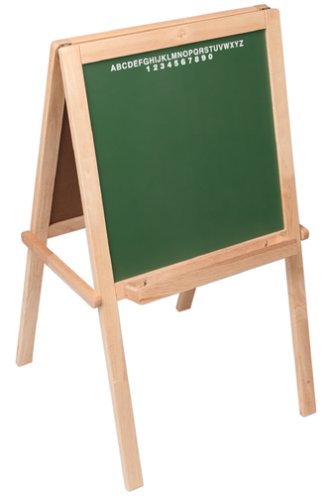 This double easel has two ways for potential Picassos to express themselves. There'll be plenty of creativity going around when they get started with this double easel. Constructed entirely of wood, it features a chalkboard on one side and a wipe board on the other. Its removable tray ensures that art supplies are always close at hand. Fan the aspirations of budding artists with this versatile two-sided easel. On one side is a white board (just like Mom and Dad use at work) while the other side sports a chalkboard adorned with numbers and letters. There's a tray, which can easily transfer from one side of the easel to the other to store chalk or dry-erase markers. The easel assembles easily, requiring only minimal adjustments.
An artist's easel is a thoughtful and inspiring gift for a child with artistic tendencies. It's more than just a tool; it's a gateway to creativity, self-expression, and skill development. Here's why an artist's easel makes such a wonderful gift:
Encourages Creativity: An easel provides a dedicated space for painting, drawing, and exploring various art mediums. It invites children to unleash their imagination and create freely.
Promotes Skill Development: Working on an easel helps children develop fine motor skills, hand-eye coordination, and spatial awareness. It also fosters an understanding of color, shape, and composition.
Builds Confidence: Having their own easel can make a child feel like a real artist, boosting their confidence and encouraging them to take pride in their work.
Enhances Focus and Concentration: The vertical surface of an easel requires a child to stand and engage physically with their artwork, enhancing focus and concentration.
Adaptable and Versatile: Many easels are adjustable, growing with the child and accommodating various art projects. They often include features like chalkboards, magnetic surfaces, and storage trays for art supplies.
Easy to Use and Maintain: Easels are generally easy to set up and clean, making them a practical choice for both children and parents.
Fosters a Love for Art: By providing a professional tool like an easel, you're nurturing a child's love for art and encouraging them to pursue their artistic interests further.
An artist's easel is not just a gift; it's an investment in a child's artistic journey. It recognizes and validates their passion, providing them with the means to explore, learn, and grow as an artist. It's a gift that can have a lasting impact, shaping their creativity and self-expression for years to come.