Artist Easel With Art Supplies
Artist Easel with Tray Supplies.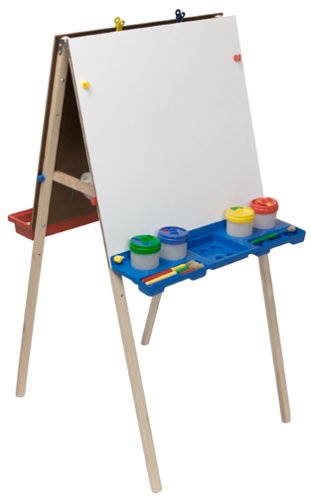 This double easel is 48 tall and has a 24 chalkboard on one side and a dry erase board on the other. It features pre-hinged hardwood legs, support braces and a paper roll bar to hold an 18 roll of paper (included). The easel is fully collapsible for easy storage and height adjustable for growing artists. The molded tray is specially designed to hold the included four non-spill paint cups, six poster paints and four chubby paint brushes. It also comes complete with 12 colored chalks, black board eraser, six wipe-off markers and two easel clips. With this well-designed, double-sided easel, preschoolers can enjoy the advantages of creative expression on an upright surface. The easel's frame is made from sturdy wood left in its natural state, with thick pressed board used as the bases for the art surfaces. One side of the easel has a 24-by-24-inch, green chalkboard, and the other side has a 24-by-24-inch, white dry-erase board. Two removable, washable trays are included to attach to the easel (one with molded spaces to hold paint jars and brushes). The easel requires simple assembly, but no tools are required and all bolts and plastic bolt covers are included. Some thoughtful design aspects include an adjustable height feature, a convenient, built-in paper towel holder, and two metal clips to attach paper for painting. Included in the set are some art supplies to get started: four large, no-spill paint jars, six small jars of poster paint, four paint brushes, a package of colored chalk, six dry-erase markers, a foam eraser, and a 75-foot roll of newsprint paper. This set was a winner of the Dr. Toy Best Classic Toys Award, and it would be a winning addition to any playroom, family daycare home, or preschool.
Dry Erase Boards
Providing children with a dry erase board is a simple yet powerful way to inspire creativity and foster a love for learning and expression. Here's how a dry erase board can be a valuable tool for children's creativity:
Unlimited Canvas: A dry erase board offers an endless canvas for children to draw, write, and create. They can easily erase and start over, allowing for continuous experimentation and exploration.
Encourages Collaboration: Children can work together on a dry erase board, sharing ideas, and creating collaborative artwork. It promotes teamwork, communication, and social skills.
Enhances Fine Motor Skills: Drawing and writing on a dry erase board help children develop fine motor skills and hand-eye coordination, essential for their overall growth and development.
Promotes Visual Learning: Visual learners can benefit greatly from a dry erase board. They can use it to visualize concepts, organize thoughts, and make connections between ideas.
Environmentally Friendly: Unlike paper, a dry erase board can be used repeatedly without waste. It's an eco-friendly option that teaches children about sustainability.
Interactive Learning: Teachers and parents can use dry erase boards to make learning interactive and engaging. Whether it's solving math problems or practicing spelling, it adds an element of fun to education.
Portable and Versatile: Many dry erase boards are lightweight and portable, making them suitable for various settings, including classrooms, bedrooms, and outdoor activities.
Boosts Confidence: The non-permanent nature of a dry erase board encourages children to take risks and try new things without fear of making mistakes. It builds confidence and creativity.
A dry erase board is more than just a writing surface; it's a versatile tool that unlocks a world of creative possibilities. It nurtures a child's imagination, encourages collaborative play, enhances learning, and provides endless opportunities for fun and creativity. It's a valuable addition to any home or classroom, sparking joy and inspiration in children of all ages.