Baby Beach Toys
Infant Beach Activity Play Center by Aqua Leisure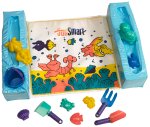 Portable beach playset makes sand play easy and fun. This all in one beach play mat includes 11 fun sand toys, which store easily in the side compartments. It also folds easily into a convenient carrying case.
Beach Toys for Babies
Beach Buckets and Shovels: These classic beach toys come in baby-friendly sizes and are perfect for digging and building in the sand. They help develop fine motor skills and hand-eye coordination.
Sand Molds: Available in various shapes like animals, stars, and cars, sand molds allow babies to create fun shapes in the sand, encouraging creativity and exploration.
Watering Cans: Small, colorful watering cans are great for pouring water and playing in the sand. They can help babies understand cause and effect as they see the water flow.
Soft Beach Balls: Soft, inflatable beach balls with bright colors and patterns can stimulate visual development and provide gentle physical play.
Floating Bath Toys: These toys are designed to float on water, making them perfect for shallow water play. They come in various shapes and characters, adding fun to water exploration.
Textured Sand Rollers: Rollers with different textures can create exciting patterns in the sand, offering sensory stimulation and enhancing tactile awareness.
Beach Play Mats: Play mats with waterproof backing provide a comfortable and clean space for babies to sit and play with other toys, protecting them from the hot sand.
UV-Protected Beach Tents: While not a toy, beach tents with UV protection provide a shaded area for babies to play safely, protecting their sensitive skin from harmful sun rays.
Squirt Toys: Small, squeezable toys that can squirt water add an element of surprise and joy to water play, enhancing fine motor skills.
Stacking Cups: Beach-friendly stacking cups can be used for scooping, pouring, and building, promoting cognitive development and problem-solving skills.
Soft Frisbees: Made from soft fabric or foam, these frisbees are gentle for babies to play with, encouraging early gross motor development.
Washable Beach Books: Waterproof and sand-proof books with beach themes can entertain and educate babies during beach outings, fostering early literacy skills.
These beach toys for babies are designed to provide safe and engaging play experiences. From sensory exploration to motor skill development, they offer a wide range of activities that can make a day at the beach both fun and educational for the little ones.