Beach Toys
For fun with sand and water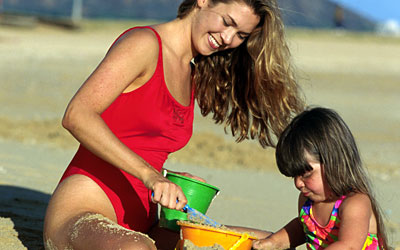 Baby Beach Toys - Infant Beach Activity Play Center by Aqua Leisure.
Baby Sun Canopy - Baby Activity Mat with Canopy.
Beach Bucket Set - 5 Piece Round Bucket Set by BRIO.
Beach Chair for a Boy - Hot Wheels Beach Chair and Carry Bag.
Beach Chair for a Girl - Barbie Beach Chair and Carry Bag.
Brio Sand and Water Play Set - Sand and Water Set by BRIO.
Brio Sand Mill and Truck - Sand Mill and Truck Set by BRIO.
Caillou Beach Set - Scoop, rake, bucket, and ball.
Digging Beach Toys - Fun On the Run Beach Set by Small World Toys.
Official Beach Volleyball - Wilson AVP Official Beach Volleyball
Sand Drill - Sand drill is a beach toy that works like an auger.
Wagon with Beach Toys - Red Wagon filled with Fun Toys.

Having the right beach toys with you on your trip to the shore, whether it is the ocean itself, a bay, a lake, or even a pond, can make a difference to children. They will never forget the hours spent building with sand near the surf or near stiller waters.