Baby Smartronics Nursery Rhymes Bus
Learning nursery rhymes bus.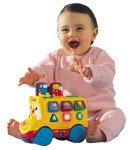 An adorable school bus which brings electronic learning fun and classic pop-up play to baby with two modes. Each mode's character buttons make noise and visual effects when hit. When pushed, the bus plays a fun song as the light in the bus's nose twinkles.