Baby Sun Canopy
Baby Activity Mat with Canopy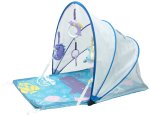 The best protection for a baby on the beach is to block the sun with a canopy in addition to a covering with cotton.
When bringing a baby to the beach, providing protection from the sun is of paramount importance. A sun canopy serves as a vital tool in ensuring the baby's safety and comfort for several reasons:
UV Protection: Babies have delicate and sensitive skin that is highly susceptible to the harmful effects of UV rays. A sun canopy with UV protection can block a significant amount of these rays, reducing the risk of sunburn and long-term skin damage.
Temperature Regulation: Direct exposure to the sun can cause overheating in babies, leading to discomfort and potential health risks. A sun canopy provides shade, helping to maintain a cooler and more comfortable environment for the baby.
Enhanced Comfort: A shaded area allows the baby to play, rest, and nap without the discomfort of direct sunlight in their eyes or on their skin. This enhances the overall enjoyment of the beach outing for both the baby and the caregivers.
Prevention of Dehydration: Prolonged exposure to the sun can lead to dehydration in babies. By providing shade, a sun canopy helps in maintaining the baby's hydration levels, especially when combined with regular fluid intake.
Flexibility and Convenience: Many sun canopies are portable and easy to set up, offering flexibility in choosing the perfect spot on the beach. They can also be used in conjunction with other baby beach gear, such as play mats and toys, to create a safe and enjoyable beach haven.
A sun canopy is an essential accessory for babies at the beach. It not only protects their delicate skin from harmful UV rays but also ensures their comfort and well-being. Investing in a quality sun canopy is a responsible and thoughtful decision that contributes to a positive and worry-free beach experience for the entire family.