Balls for a Ball Pit
Box of 100 Ball Pit Balls from Hedstrom.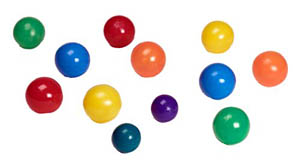 These 100 authentic multi-colored pit balls are made from a patented formula that withstands 10,000 compressions without collapsing (rated the same as those on play equipment at fast food businesses). Whether your ball pit still has its original complement of balls, or whether half of them have been squashed, lost under the couch, or chewed up by the dog, you can't go wrong by buying a couple of extra boxes. Box of Balls contains 100 balls in assorted colors, and there are two sizes that measure 3 and 2.25 inches in diameter. The balls are simple to use: just pour them into the play pit, add the children, and stir for many hours of fun.