Barbie Laptop Computer
Compact interactive teaching games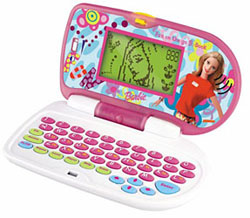 Lots of games and activities are packed into this mini laptop that's pure Barbie with its pink cover and pastel keyboard. The 6-by-3-inch electronic toy computer offers tons of games with a learning focus. There are eight different word activities (e.g., hangman, word scramble, spelling), five math activities (e.g., adding, subtracting, numerical ordering), four logic activities (e.g., pattern sequences, matching, memory), several music activities and games, and a handy calculator. Even better, this small, portable device can entertain a 5- to 10-year-old for hours and teach them something along the way. It will also give kids the chance to feel like a grownup working on the computer. This Barbie toy with substance will be a hit with the technically savvy younger set. Barbie compact learning computer goes everywhere. It can interact directly with children using digital sound.
Evolution of Electronic Learning Devices
Over the decades, electronic learning devices have undergone significant transformation, adapting to advancements in technology and changing educational needs. The journey from simple electronic toys to sophisticated e-learning platforms showcases a blend of innovation, design, and educational pedagogy. Here's a glimpse into their evolution:
1970s & Early 1980s: Pioneering Days: The initial phase saw devices like the Speak & Spell by Texas Instruments, which utilized synthesized speech for teaching spelling and pronunciation. Simple in design, these devices laid the groundwork for more complex electronic learning aids.
Late 1980s & 1990s: Handheld Electronic Games: Leapfrog and other companies introduced handheld educational games that focused on math, spelling, and other subjects. Devices were often portable, battery-operated, and combined learning with gameplay elements.
2000s: Interactive & Multimedia Learning: With the rise of personal computers, CD-ROM educational games became popular. Companies like The Learning Company and Broderbund released series like "Reader Rabbit" and "The ClueFinders," emphasizing interactive learning and rich multimedia experiences.
2010s: Tablets & Apps Era: The launch of the iPad and the proliferation of Android devices revolutionized e-learning. App stores offered thousands of educational apps, catering to all age groups and subjects. Devices became more touch-friendly, with intuitive interfaces allowing even toddlers to interact and learn.
Adaptive Learning & AI Integration: Modern e-learning tools started leveraging Artificial Intelligence to offer personalized learning experiences. Systems could now assess a student's progress and adapt content accordingly, ensuring more targeted and efficient learning.
Augmented Reality (AR) & Virtual Reality (VR): By integrating AR and VR, electronic learning devices provided immersive experiences. For instance, exploring the solar system in VR or using AR to visualize historical events brought subjects to life in unprecedented ways.
Connectivity & Cloud-Based Learning: The integration of cloud technology allowed students to access learning material from anywhere, facilitating collaborative learning and ensuring that content remained updated.
2020s & Beyond: Holistic Learning Platforms: The focus has shifted from isolated apps to comprehensive platforms offering a range of resources, including video lessons, interactive exercises, and assessments. These platforms, like Khan Academy and Coursera, allow for a blended learning experience, combining self-paced study with structured lessons.
The evolution of electronic learning devices mirrors the broader technological advancements of each era, but with an added emphasis on pedagogy and learner engagement. As we move forward, the potential for more immersive, personalized, and globally connected learning experiences continues to grow, reshaping education in profound ways.