Barbie Bath and Bubble House
Barbie Bubbles House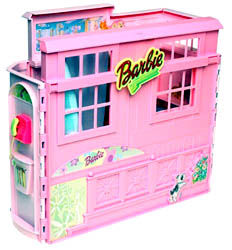 This hip urban house for Barbie doll has a faucet that creates real foaming bubbles for a shower or luxurious bath. Barbie doll can cook up a meal and wash her dishes with real suds. The computer desk folds down into a beautiful bed. There is a light in the bedroom that is also a flashlight for the girl. Barbie doll loves the cool cafe outside the house where she meets her friends for cappuccino.
The Delight of a Doll Playset with Real Foaming Bubbles
Introducing real-life elements, such as foaming bubbles, to a doll playset brings a unique level of enchantment and engagement. The fun of such a playset lies not just in the visual appeal of the bubbles, but also in the multifaceted play experience they offer. Here's a dive into what makes a doll playset with real foaming bubbles so special:
Sensory Experience: The tactile sensation of foamy bubbles adds a whole new dimension to play. Children can feel the bubbles' texture, watch them form and dissolve, and even listen to the gentle fizzing sounds they might produce.
Realism and Imagination: Real bubbles enhance the play experience's realism. Children can imagine their dolls having a bubble bath, throwing a foam party, or exploring a bubbly fairyland, making the narrative more vivid and immersive.
Science and Curiosity: The process of creating bubbles can pique children's curiosity about how they form, why they pop, and the science behind foaming agents. It's an opportunity for them to learn while playing.
Interactive Play: The act of producing bubbles can be an interactive process, whether it's pressing a button, pumping air, or mixing safe ingredients. This hands-on interaction adds another layer of engagement to the play session.
Social and Collaborative Play: Bubbles have a universal appeal, making the playset a great tool for shared play. Children can collaborate in creating stories, taking turns, and sharing the delightful experience with peers or family.
Visual Appeal: The iridescence and shimmer of bubbles, combined with their delicate, transient nature, add a magical visual element to the playset. Their fleeting existence can also teach kids about the ephemeral nature of moments and the importance of enjoying the present.
Versatility: The bubbles can be incorporated into various play scenarios, from spa days for the dolls to magical adventures involving bubbly potions or underwater explorations with mermaid dolls.
A doll playset that creates real foaming bubbles transforms a simple playtime into a multisensory, interactive, and imaginative experience. It intertwines the magic of bubbles with the limitless narratives children can craft, making it a delightful toy that captivates both the heart and mind.