Barbie's New Boyfriend Blaine
Australian surfer hunk from down under takes place of discarded Ken doll, who remains just a friend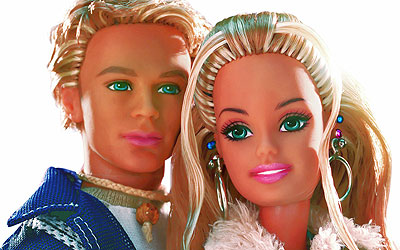 Since the Barbie and Ken February break-up, Barbie has been cruising in her Chevy SSR, soaking up sun, and hanging out at the Surf and Skate Shop with her best pals. With summer just around the corner, Barbie is ready to date again and has looked to her friends from around the globe to help her choose a new crush. Over the past few weeks, more than two million girls worldwide logged on to the official site to help Barbie choose a new boyfriend and Blaine doll won.
"Since the break-up, Barbie and Ken have remained friends and are looking forward to the release of their latest film, Barbie as Princess and the Pauper, coming out this fall," said Julia Jensen, publicist, Barbie. "So spending the summer roaming the beach with her best friends and Blaine is the perfect antidote."
Beach living Cali Girl style wouldn't be complete without a summer romance, and Blaine, the suave new Aussie surfer in the group, caught more than a few waves when he snagged Barbie doll's attention. With a mature character and worldly, seasoned surfing style, Blaine doll is giving America's surfer girl some tips and tricks from international waters.
Blaine doll was born an Australian boogie-boarder, and lived and surfed in Hawaii for a few years before moving to the states and becoming a west coast wave-rider. The older brother of Barbie's friend Summer, Blaine doll has sun-bleached hair and surf-bronzed skin, and sports the latest in beach and casual surfer gear. And, as the newest addition to the Cali Girl fall collection, he can be found on store shelves in August for a suggested retail price of $14.99.