Barbie Checks
Classic fashion doll poses in stylish formal and daywear on new full-color scene designs from Clarke American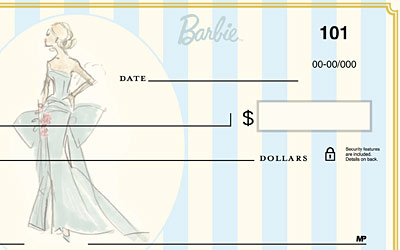 Beauty, style, fashion and a sense of possibility. Barbie truly is more than a doll for millions of big and little girls around the world.
With ease, she has shown generations of girls around the world that they can do anything they can dream. Few toys have inspired the love and loyalty of fans like the character first introduced as a teenage fashion doll by Mattel in 1959. Decades of new styles, new friends, and new adventures haven't dampened enthusiasm for the doll.
In 2004, the pop icon took on a new role as the star of a new check series offered by Clarke American. Five full-color check scenes feature Barbie's elegant sense of fashion as she poses in stylish formal and daywear. Checks could be purchased separately or in a value pack that includes a tan leather cover and white labels.
"Barbie is a modern classic that women of all ages can appreciate," observes Linda Roothame, Clarke American senior product marketing manager. "She is as fresh and exciting today as she was 45 years ago when she first appeared on store shelves. Many of us have wonderful childhood memories of Barbie, and that alone makes these checks a welcome addition to our checkbooks. But millions of us have continued to love Barbie as we became adults, and now she is one of the most popular characters and collectibles in our culture. Barbie fans of any age will be proud to show off their love of her style and beauty with these new checks."
The Clarke American products were available at participating branches, and could also be ordered through a number of financial institution Internet and phone channels.