Barbie Cheerleader
Cheerleader Flex Barbie.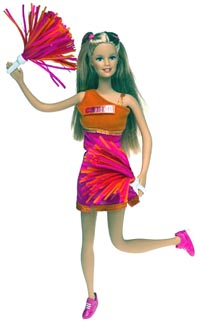 Barbie Cheerleader and her friends can do the coolest cheer moves because they have totally flexible soft flex bodies. Barbie doll wears a trendy pink and orange cheerleading outfit with velcro letters and real pom poms, too. There are thirty different letters for decorating and a megaphone that's also a key chain for the girl, sweat pants and hoodie jacket plus pom poms.
The Inspirational Power of Cheerleader Dolls
Cheerleader dolls, with their vibrant uniforms, spirited poses, and accompanying accessories, can serve as a source of inspiration for many children. These dolls can motivate children to explore the world of cheerleading and embrace its values of teamwork, enthusiasm, and discipline. Here's how cheerleader dolls can pave the way for a child's interest in this lively activity:
Role Modeling: Dolls often act as children's first role models. By playing with a cheerleader doll, children can emulate the characteristics they see in the doll, such as confidence, leadership, and enthusiasm.
Imaginative Play: While playing, children can craft various narratives around cheerleading, from practicing routines to participating in competitions. This imaginative play can kindle an interest in experiencing the real thing.
Introduction to Teamwork: Cheerleading emphasizes synchronization, unity, and working together. Through their dolls, children can grasp the essence of teamwork and collaboration, values that are crucial not only in cheerleading but also in life.
Physical Activity Promotion: Cheerleading combines dance, acrobatics, and gymnastics. Playing with cheerleader dolls can inspire children to try out some moves, potentially fostering a love for physical activity and the sport itself.
Appreciation of Aesthetics: The colorful uniforms, pom-poms, and accessories can draw children towards the aesthetics of the sport, making them curious about the actual performance and presentation aspects of cheerleading.
Boosting Self-Confidence: Cheerleaders exude confidence and positivity. By identifying with their cheerleader dolls, children might feel encouraged to step out of their comfort zones, try new activities, and express themselves more freely.
Introducing the Concept of Dedication: Through play narratives, children might explore themes of practice, dedication, and improvement, understanding that to excel in an activity, consistent effort is key.
Cheerleader dolls can act as windows into a world of energy, dedication, and team spirit. By engaging with these dolls, children may be inspired to dance, chant, and cheer, discovering the vibrant world of cheerleading and the myriad benefits it offers.