Barbie Cruise Ship
Cruise Ship Barbie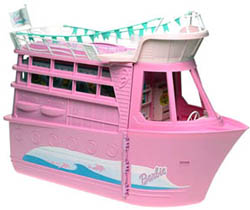 This luxurious Cruise Ship for Barbie doll and her friends has everything for a fun vactation getaway including a girl-sized pretend camera that activates cool sound effects. Barbie doll and friends can lounge at the swimming pool, eat at the buffet, dance at the night club and get a good night's sleep in the bedroom cabin. Lots of accessories for vacation play are also included in the Barbie Cruise Ship.
Cruise ship playsets offer children an exciting window into the world of sea voyages, tropical destinations, and luxury travel. With multiple decks, rooms, and mini-figures, these playsets become centers of thrilling narratives and imaginative journeys. Here's a look into the myriad joys a cruise ship playset offers to its young captains and adventurers:
Endless Storytelling: The open seas are filled with mystery and wonder. Whether it's a tale of a ship's crew navigating through a storm, vacationing passengers on a tropical treasure hunt, or a grand sea party on the deck, the storytelling possibilities are limitless.
Role-Playing: With a cruise ship playset, children can assume various roles - be it the ship's captain steering the vessel, a chef preparing delectable meals for the guests, or tourists indulging in various onboard activities.
Exploration of the World: Cruise ships signify travel and exploration. Through play, children can visit imagined destinations, be it icy Arctic terrains, tropical islands, or bustling port cities, broadening their understanding of the world.
Social Interaction: Just like a real cruise ship teeming with passengers, a playset can become a hub for social interactions. Friends can come together, assigning roles, organizing activities, and collaborating on stories.
Development of Fine Motor Skills: Many cruise ship playsets come with intricate parts like mini-furniture, detachable decks, and tiny accessories. Setting up scenes and interacting with these components aids in refining a child's fine motor skills.
Cognitive Growth: Engaging with the playset can spark questions and conversations about the mechanics of ships, ocean ecology, or global cultures. This facilitates cognitive development and curiosity.
Emotional Skills: Through role-playing scenarios, children can explore a spectrum of emotions, from the excitement of an onboard concert to the problem-solving challenges of navigating rough seas.
Sensory Play: The textures, colors, and sometimes even sounds (like a ship's horn or wave sounds) associated with these playsets offer a rich sensory experience.
A cruise ship playset is a ticket to a world of imagination, where the horizons are as vast as the oceans themselves. Children can set sail on countless adventures, learning, growing, and having fun every nautical mile of the way.