Barbie Dance Party TV Mat
Barbie Play TV Dance Party Game.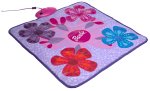 Now girls can have a dance party with their friends and Barbie. Just plug the Barbie Dance Party mat into a TV or VCR for dancing fun. Barbie really knows how to have fun with awesome tunes. The mat can fold up for easy portability.
Dance mats, when combined with video game systems, bring a unique blend of physical activity, rhythm, and technology to the world of gaming. They offer an immersive experience that resonates with both gamers and dance enthusiasts alike. Here's a glimpse into the exhilarating fun of dance mats integrated with video game systems:
Physical Activity: Unlike traditional video games where players remain seated, dance mat games encourage players to get up and move. It's a fantastic way for players to burn calories, improve coordination, and stay active—all while having a blast.
Rhythmic Challenge: These games challenge players to match their steps with on-screen cues synchronized to music. Hitting the right steps at the right moment becomes a rhythmic puzzle, which can be both challenging and immensely satisfying to crack.
Interactive Gameplay: The responsive nature of dance mats makes gaming immersive. The mat acts as an extension of the player, translating physical movements into on-screen actions, and making the gameplay feel more personal and engaging.
Music Exploration: Dance mat games often feature diverse soundtracks, ranging from pop hits to classic tunes. This introduces players to a variety of music genres, expanding their musical horizons.
Social Experience: Many dance mat games support multiplayer modes. This means players can dance-off against friends or family, turning the gaming session into a lively social event.
Progress and Achievement: As with many video games, dance mat games often include progression systems, unlocking more challenging tracks or new dance moves as players improve. This sense of progression provides motivation and a feeling of accomplishment.
Learning Opportunity: Beyond just fun, these games can be educational. Players inadvertently practice pattern recognition, enhance their memory skills by remembering dance routines, and even learn real dance moves that can be showcased off the mat.
Customization: Some games allow players to customize their avatars, dance environments, or even choreograph their dance routines, offering a layer of creativity to the experience.
Dance mats connected to video game systems provide a multi-dimensional entertainment experience. They seamlessly merge the digital world of gaming with the physical joys of dancing, creating a dynamic activity that's both fun and beneficial.