Barbie DVDs
Stories and DVDs are part of the new approach to Barbie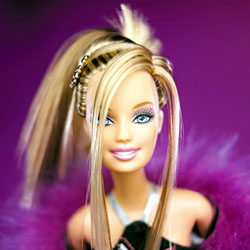 Over 1 billion sold. More than $3.6 billion in annual sales at retail worldwide. Outsold nearest competitors two to one all year in 2003. Ranked number one girls global entertainment property. Number one girls' website. Has had more than 90 careers. Sold in 150 nations. Forty-five years of success in one of the world's most competitive industries. Who can lay claim to this long list of achievements? Barbie -- the only brand that continues to stand as the top girls brand in the world.
In 2004, Barbie continued to pump up the volume with a new look, a new approach to marketing and several fresh product lines that was introduced at the American International Toy Fair in New York City.
"For the first time, we took Barbie off of her pedestal and put her in the real world with girls," said Matthew W. Bousquette, president of Mattel Brands. "Then we asked girls what they liked and what needed to be changed. We listened closely and in 2004, Barbie is on a new path -- we've connected the brand's roots in fantasy, aspiration and fashion with the energy and innovative thinking of our new management team to deliver strong on-trend products that girls will love."
"Barbie is a world-class brand," said Manny Francione, Vice President, Divisional Merchandise Manager for Toys "R" Us. "The new product offerings really addresses what Toys `R' Us consumers are demanding -- innovative, exciting, fresh themes with great style and features."
In 2004, the Barbie world will come to life through storytelling. This fresh approach is the result of the Brand's new leadership and foresight to turn the toy industry's traditional toy manufacturing model on its head by writing the stories first, and then creating dolls and toys to play out the stories. "Since the stories will take the lead, we've opened up a whole new world for extended friends, gear and fashions that encourage girls to buy deeper into the Brand," Bousquette explained.
Although a similar model has produced significant sales and brand benefits via the Barbie entertainment properties, most recently "Barbie of Swan Lake" (2003), this is the first year that storytelling will be applied across the entire Barbie doll line.
True to this new approach, Barbie will set the stage and then cue girls' imaginations to take the story to the next level. As girls get more involved and develop a deeper connection with the Barbie brand and associated characters through these stories, they will ultimately demand more products. Depending on their age, girls will be drawn into storylines in different ways and the Brand has developed product lines that reflect the play patterns of girls of all ages.
For older girls, Barbie takes a more visual approach with a 44-minute DVD, a funky magazine, CDs and partnerships with hip fashion retailers like Sephora and Levi's. For younger girls, the stories come to life with pop-up books and rich story "maps." Each of these value-added content components will be included in the toy packages to encourage cross-selling and deeper purchase.
The new Barbie management team has rebuilt the Brand with three fundamentals in mind -- listening to what girls want, incorporating this in every product, and responding quickly and decisively to market trends and opportunities.
"Barbie has always been about fun, fashion and friends and those core values will not change," Bousquette continued. "But, since girls' interests evolve from year to year and sometimes even week to week, we knew Barbie needed to change with them. From this point on, Barbie will continue to evolve to reflect not only the brand's core values, but what girls want today."
In talking with girls, the Brand confirmed that girls aspire to different things at different ages. Younger girls aspire to a world of fantasy and imagination, while older girls want authentic fashion and real-world experience. Barbie will exist in the land of Fairytopia, a magical place with beautiful and fantastical creatures that fulfills fantasy play for younger girls. Barbie will also take the form of two musical princesses in a fourth entertainment property, the enchanting full-length "Barbie as The Princess and The Pauper" musical video/DVD. For older girls, the MyScene dolls will celebrate the key times in a teenager's life, fulfilling aspirational play patterns for tween girls as they aspire to a realistic teen lifestyle. And, the Cali Girl dolls will reinvent the swimsuit doll segment with Barbie doll and friends living it up in California style.
The Barbie brand also represents the leading girls license with products in over 30 categories ranging from electronics and apparel to sporting goods, all designed to inspire girls and spark their imaginations, in line with the values of the Brand. With an increased emphasis on Barbie Style, the growing apparel and accessories business, Mattel Brands will continue to offer girls unique stylish fashions inspired by today's hottest trends that speak to the heritage of the Brand and support the overall Brand emphasis on staying right in step with girls.
"With our re-energized focus," Bousquette concluded. "Barbie will continue to be the leading girls brand in the world."