Barbie Fairytopia
Wonder fairy dolls and sprites including Aqua Jewel Drop Joybelle and Petal Pixie Enchanted Meadow play set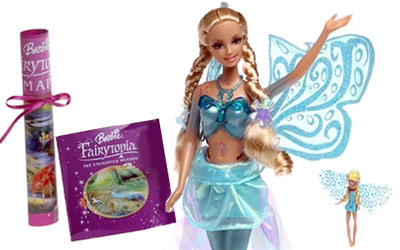 Barbie and friends are beautiful fairies with fluttering wings that transform from a magical sparkly gown. Each Wonder Fairy doll has beautiful artwork on torso and arms as well as sculpted artwork on their legs. To accompany the Wonder Fairy dolls on their journey, each doll comes with a little sprite companion. The fantastical Fairytopia Enchanted Meadow Playset is a magical home for fairies, pixies and mermaids, too. Girls can make Wonder Fairy and friends fly gracefully over the Enchanted Meadow Playset. There is a waterfall that opens to reveal a vanity for Wonder Fairy and a sprite friend. There is a large iris with petals that open to reveal a tiny sprite house with two sprite dolls that live there. The Petal Pixie dolls can rest on the smaller leaf beds of the iris and the top petals open to reveal another flowerbed. Includes lots of other wonderful accessories to help create a magical world for girls to play and pretend.
The Enchanting Appeal of Fairy Dolls
Fairy dolls have captivated the imaginations of children for generations, inviting them into a world of magic, wonder, and endless possibilities. These ethereal beings, often characterized by delicate wings, shimmering dresses, and a touch of fantasy, resonate deeply with young minds. Here's a deeper look into the timeless allure of fairy dolls:
Magic and Mystique: Fairies are often associated with magic, granting wishes and performing enchanting feats. Owning a fairy doll allows children to feel connected to this magical realm, where the ordinary laws of nature can be bent or broken.
Connection to Nature: Fairies are traditionally seen as guardians of nature, residing in forests, meadows, and flowers. Fairy dolls can foster a love and appreciation for the natural world, encouraging children to explore and respect their surroundings.
Rich Storytelling: The fairy realm offers a backdrop for countless tales of adventures, challenges, and triumphs. With a fairy doll in hand, children can create intricate narratives, weaving their own stories of bravery, friendship, and discovery.
Empowerment: Despite their delicate appearance, fairies are often depicted as strong, independent, and resourceful. Playing with fairy dolls can empower children, encouraging them to channel the same resilience and determination in their own lives.
Artistic Inspiration: The intricate designs, shimmering wings, and ethereal aesthetics of fairy dolls can inspire artistic endeavors. Children might be motivated to draw, paint, or craft, mirroring the beauty they see in their fairy companions.
Social Interaction: Fairy dolls can become the central characters in shared narratives among friends. Group play can lead to the creation of interconnected fairy societies, promoting teamwork, negotiation, and social skills.
Comfort and Companionship: For many children, a doll isn't just a toy but a trusted companion. Fairy dolls, with their gentle demeanor, can provide comfort and solace, especially during challenging times.
Collectibility: With a variety of designs, wing patterns, and outfits, fairy dolls can become treasured collectibles. This can teach children about responsibility, care, and appreciation for artistry.
In essence, fairy dolls are more than mere toys; they are gateways to realms of fantasy, creativity, and self-exploration. They remind children of the magic present in everyday life and the potential within themselves to create, dream, and believe in the impossible.