Barbie Fashion Blast Game
Fast-paced, interactive fashion game.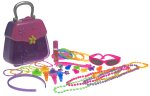 A fast-paced, interactive fashion game that challenges girls to think fast, choose carefully and accessorize quickly. The only way to win the ultimate beauty makeover, is to find the right accessory in time and pass the purse quickly. With over 30 pieces of hip fashion, bracelets, necklaces, rings, sunglasses, body glitter and more, girls will have a fashion blast.
Fashion games that feature play jewelry and body glitter offer a unique blend of self-expression, creativity, and a touch of glam, enabling children to explore and express their individuality. Here's a dive into the exhilarating world of play jewelry and body glitter fashion games:
Self-Expression: With an array of bracelets, necklaces, rings, and other accessories, children can mix and match to create looks that resonate with their personal style, allowing them to communicate their identity through fashion.
Role Play: Fashion games can transport children into various roles. Whether they're pretending to be a fashion-forward celebrity, a powerful queen, or a magical fairy, play jewelry adds authenticity and flair to their imaginative scenarios.
Creative Exploration: Designing unique jewelry combinations or experimenting with body glitter placements lets children harness their creativity. It encourages them to think outside the box and envision new, bold fashion possibilities.
Social Interaction: Fashion games are often more fun with friends. Children can host fashion shows, swap jewelry pieces, or even collaborate on jewelry-making projects, fostering teamwork and strengthening social bonds.
Boosted Confidence: Donning glittering necklaces, sparkling rings, or shimmering body glitter can boost a child's confidence. It allows them to feel beautiful and special, fostering a positive self-image.
Motor Skills Development: Manipulating small jewelry clasps or applying body glitter with precision can aid in refining a child's fine motor skills and hand-eye coordination.
Understanding Aesthetics: By arranging jewelry and experimenting with color combinations or patterns, children develop an aesthetic sense, understanding balance, symmetry, and design.
Sensory Stimulation: The textures of different jewelry materials, combined with the visual appeal of shimmering body glitter, provide sensory stimulation, enhancing a child's sensory perception and appreciation.
Fashion games featuring play jewelry and body glitter not only offer hours of entertainment but also cultivate creativity, confidence, and various skills. They allow children to playfully experiment with fashion, encouraging them to embrace their unique style and vision.