Barbie Grand Hotel
Luxurious two-story hotel with cool, interactive phone features.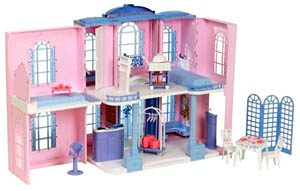 Whenever Barbie's in town, she stays at this luxurious two-story hotel with cool, interactive phone features. Barbie can call room service to order food, the Grand Salon for a hair appointment, or even call room to room! The main entrance has a manual elevator with an electronic bell. More than 100 phrase combinations for the interactive phones. Also prompts play with random phone calls and messages. Each room is beautifully detailed and furnished just like a real hotel, including the Penthouse, Deluxe Suite, Grand Salon, Terrace Cafe and Lobby. This Barbie hotel is indeed grand, a dream hotel for those who can't get enough pink, purple, and Barbie in their lives. When first taken out of its box, the hotel opens up and the floors fall neatly into place. Only a few adjustments to the walls are necessary before it's ready to decorate. There are all kinds of fun details, from the cool luggage rack with hangers, to the room service cart and food. All the necessities of travel are here: hairdryer, perfume bottle, credit card, luggage, and even a picture of Ken for the nightstand. Plug in the reservation desk and the three phones are hooked up--they are supposed to ring and talk to each other with over 100 phrases, but we only heard one welcome phrase. The elevator was a little sticky and just barely big enough for our Barbie to ride in. In fact, the scale of the whole place seemed a little small for the Barbies we put inside. For serious Barbie fanatics.
Hotel playsets are a passport to a world of adventure, luxury, and imaginative stories for children. These miniature wonderlands capture the essence of the bustling hotel environment, offering endless scenarios for young minds to dive into. Let's explore the captivating allure of hotel playsets:
Endless Storytelling: Whether it's the tale of a glamorous celebrity checking in, a mysterious guest with a secret, or the day-to-day adventures of the hotel staff, hotel playsets set the stage for countless narratives and dramas.
Role Play: Children can assume various roles within the hotel, from the manager and receptionist to the guests and housekeeping. This allows them to understand different perspectives, responsibilities, and interpersonal interactions.
Luxury and Exploration: The plush suites, rooftop pools, grand lobbies, and gourmet restaurants often found in hotel playsets let children explore the luxurious side of life, cultivating an appreciation for finer details.
Social Interaction: Hotel playsets are perfect for group play. Friends can take on different characters, collaborate on storylines, and navigate the intricacies of the hotel world together, fostering teamwork and communication.
Life Skills Learning: Interacting with a hotel playset can introduce children to basic life skills. They learn about hospitality, the importance of cleanliness, time management (e.g., check-in/check-out timings), and more.
Creative Design: Many hotel playsets allow customization, letting children arrange furniture, decorate rooms, or even design the hotel layout, thereby nurturing their creative and spatial skills.
Cultural Awareness: Given that hotels are often associated with travel, playsets can incorporate elements from various cultures, teaching children about diversity, traditions, and global etiquette.
Problem Solving: Managing a hotel, even in play, can present challenges. Maybe there's a double booking, or a guest has lost their room key. Navigating these scenarios hones a child's problem-solving abilities.
A hotel playset is a universe brimming with stories, lessons, and experiences. It provides a rich tapestry of opportunities for children to learn, grow, and, most importantly, have fun.