Barbie Karaoke Cam
Barbie Karaoke Cam Music Video Maker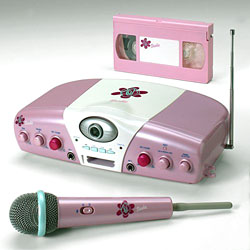 Record and star in your own music video with this Barbie Karaoke Cam. Sing along to your favorite tunes with the wireless microphone, and watch the live action on the TV while your VCR records it. Follow the lyrics in the karaoke songbook as you sing along with 6 major hits on the music cartridge, including Baby One More Time and Bye, Bye, Bye. Karaoke controls let you change and manipulate your voice, and the adjustable camera lens can create a special multi-image effect. Quick and easy to connect to your TV or VCR, you can even hook up your own CD player with the included cords. Includes wireless microphone, music cartridge and songbook, blank videotape, A/V cord, special effects lens and adjustable camera lens. Other karaoke cartridges sold separately. Imported.
The Evolution of Portable Karaoke Systems
Karaoke, a beloved pastime that originated in Japan, has undergone significant transformation, especially in its portability. From large, bulky machines to today's sleek, mobile designs, portable karaoke systems have evolved to accommodate the ever-changing demands of tech-savvy consumers and enthusiasts alike. Let's trace the journey of these systems over the years:
Early Beginnings: The initial karaoke systems were anything but portable. Mostly found in specialized karaoke bars or booths, these setups consisted of large machines with limited song selections, connected to a monitor that displayed lyrics.
LaserDiscs and CDs: As the LaserDisc and CD technologies emerged, the first semblance of portability in karaoke began. Users could buy dedicated karaoke machines for home use, which came with specific LaserDiscs or CDs loaded with tracks and corresponding lyrics.
Graphics and Video: With the advancement in technology, karaoke discs began incorporating music videos or graphical backgrounds, enhancing the visual experience of karaoke.
MP3 and Digital Era: The advent of MP3 players and the shift from physical to digital storage transformed the karaoke experience. Karaoke machines became more compact and could store more songs, eliminating the need for multiple discs.
Connectivity Boost: Modern portable karaoke systems began featuring connectivity options like Bluetooth and USB. This allowed users to connect their devices and access a vast library of songs online, breaking the barriers of limited song selection.
App Integration: With smartphones becoming ubiquitous, karaoke apps emerged. Portable karaoke systems integrated with these apps, allowing users to select songs, control pitch, and even record performances.
Battery and Wireless Advancements: Improvements in battery technology enabled longer singing sessions without needing a power source. Moreover, wireless microphones provided more freedom and mobility.
Advanced Audio Features: Modern systems come with features like voice effects, pitch control, sound equalization, and more, catering to both casual users and serious karaoke enthusiasts.
Streaming and Cloud Integration: The latest iterations of portable karaoke systems offer cloud integration, allowing users to stream tracks directly, ensuring they always have access to the latest hits.
The journey of portable karaoke systems mirrors the broader trajectory of technological advancement. From space-consuming setups to pocket-sized gadgets, karaoke systems have continuously evolved, ensuring that the joy of singing along to one's favorite tunes can be experienced anytime, anywhere.