Barbie Kelly Kitchen
Bake Sale Barbie and Kelly Doll.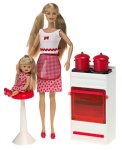 Help cooking Barbie and Kelly make delicious goodies for their friends! With the magical oven, you can make and frost your very own tasty treats. Then use the sprinkle shaker to decorate them with colorful sprinkles. Yum.
Bake sales are a cherished tradition in many communities, offering a delightful blend of sweet treats, camaraderie, and a purpose. Whether it's to raise funds for a noble cause or simply to share the joy of homemade delicacies, hosting a bake sale brings numerous pleasures:
Creative Expression: Bakers get the chance to showcase their culinary skills, experimenting with new recipes or perfecting old favorites. The bake sale becomes a canvas for their edible artistry.
Community Bonding: It's an event that brings people together. Neighbors, friends, and even strangers share stories and laughter over a mutual love for baked goods.
Supporting a Cause: Often, bake sales are organized to support a charitable cause or community project. It provides a tangible way for individuals to contribute and make a difference.
Learning Experience: For young participants, a bake sale can be educational. They learn about budgeting, planning, marketing, and even basic math skills as they handle sales.
Sense of Accomplishment: There's immense satisfaction in seeing a table full of baked goods dwindling as people appreciate and purchase what you've created.
Sweet Rewards: Apart from the joy of baking and selling, there's also the fun of tasting. Bakers often swap or purchase each other's goods, savoring the diverse range of treats on offer.
Decorative Fun: Setting up the bake sale allows for creativity beyond just baking. Designing the stall, creating attractive price tags, and theming the display all add to the fun.
Building Team Spirit: If organized as a group effort, the planning, baking, and selling tasks foster teamwork and collaboration among participants.
Networking: For avid bakers, it can be a platform to get feedback, share recipes, and even kickstart a small baking business.
Spread Happiness: At its core, a bake sale is about sharing joy. Every muffin, cookie, or slice of cake has the potential to brighten someone's day.
Hosting a bake sale is a multi-layered experience that is as heartwarming as the fresh bakes on offer. It's an event that nourishes the body and soul, celebrates community spirit, and creates lasting memories.