Barbie Let's Camp Giftset
Barbie camping introduces your child to the elements of camping.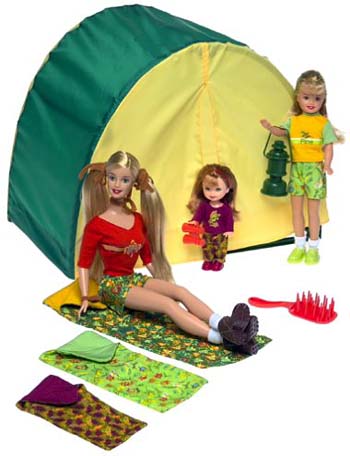 Introduce your child to the elements of camping or keep their interest piqued with this Barbie Let's Camp gift set. Included is a nifty nylon tent which is easy to set up with the help of an adult; Barbie, Stacie, and Kelly; plus sleeping bags that match their respective outfits. Each is dressed in a colorful woodsy theme; Little Kelly has an oak design, Stacie a pine theme, and Barbie wears maple. All the girls are wearing chunky hiking boots and accessories include a lantern, binoculars, a hairbrush, a cardboard campfire, and games and stencils to help identify different trees. This attractive playset is well designed, functional, and perfect for hours of pretend play.