Barbie Let's Camp Giftset
Barbie camping introduces your child to the elements of camping.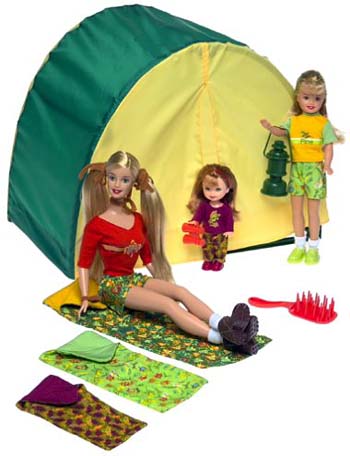 Introduce your child to the elements of camping or keep their interest piqued with this Barbie Let's Camp gift set. Included is a nifty nylon tent which is easy to set up with the help of an adult; Barbie, Stacie, and Kelly; plus sleeping bags that match their respective outfits. Each is dressed in a colorful woodsy theme; Little Kelly has an oak design, Stacie a pine theme, and Barbie wears maple. All the girls are wearing chunky hiking boots and accessories include a lantern, binoculars, a hairbrush, a cardboard campfire, and games and stencils to help identify different trees. This attractive playset is well designed, functional, and perfect for hours of pretend play.
Taking dolls on a wilderness adventure with a camping playset introduces a whole new world of imaginative play for children. The great outdoors, even in miniature form, holds countless stories and scenarios waiting to be explored. Here's why camping playsets designed for dolls capture the hearts of young adventurers:
Outdoor Narratives: These playsets allow kids to imagine scenarios they might have experienced, seen, or heard about. Whether it's setting up the campsite, gathering around a bonfire, or stargazing, the narrative possibilities are endless.
Miniature Wonders: There's an undeniable charm in small-scale replicas. Tiny tents, miniature marshmallows on sticks, or a doll-sized lantern can captivate a child's attention and admiration.
Skills and Lessons: Through imaginative play, children can emulate camping tasks such as pitching a tent or navigating with a compass, which can introduce them to basic survival skills and outdoor etiquette.
Connection to Nature: Even in a play context, camping playsets can foster an appreciation for nature and outdoor activities, possibly sparking an interest in real-life camping and exploration.
Role-Playing: Children can assume various roles, from the camp leader to the wilderness explorer, enhancing their understanding of teamwork and responsibility in a camping setting.
Problem-Solving: Imaginative scenarios might involve challenges like "bad weather," a "lost path," or "wildlife encounters." Addressing these issues in play can develop problem-solving skills.
Flexibility of Setting: The beauty of a camping playset is that the adventure can be anywhere—a backyard, a mountaintop, or even a moonlit beach, allowing children to craft varied and exciting backdrops for their stories.
Social Play: Just as camping in real life is often a communal experience, camping playsets can be shared among friends, fostering cooperation, negotiation, and shared storytelling.
Adventurous Spirit: Camping inherently suggests adventure. With these playsets, dolls can embark on treks, discover hidden waterfalls, or tell spooky stories, cultivating a spirit of adventure in young minds.
Safety and Exploration: While the wilderness has its challenges, a doll's camping playset provides a safe platform for children to explore and encounter "wild" adventures without any real-world risks.
Camping playsets for dolls open a gateway to the great outdoors, allowing children to venture into the wild through their imagination. These sets not only entertain but also educate, inspire, and instill a sense of adventure and appreciation for nature's wonders.