Barbie Rapunzel
Rapunzel Barbie and Stefan Giftset.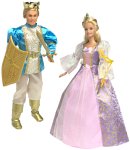 This two-pack gift set from Mattel includes Barbie as the starring princess in her own production of Rapunzel, and this Barbie doll is equipped with a few special features to make it a success. Barbie has long golden ringlets (topped with a removable gold crown), including one section that extends to her young prince when you tug on it. To get Barbie's hair back to a fashionable length, simply pull the string on her back. She's dressed in a sparkling pink and purple gown with opalescent sleeves, a net front-panel overskirt, and lots of gold glitter. She comes with six hair clips, another long blond hair extension that attaches with Velcro, and a plastic pink hairbrush that plays music when you brush her hair. Prince Stefan is looking regal indeed in this outfit of blue and gold. Press the button on the handsome prince's back, and you'll hear the story of Rapunzel. Stefan asks her to throw down her hair, tells the young maiden he loves her, asks her to accompany him to the masquerade, and blows her a kiss. The snippet of wedding music makes it clear that the couple lives happily ever after. The blond-haired and blue-eyed prince is dressed in a blue top with a cream-colored front panel that's cinched at the waist with a gold belt. His matching pants are the same cream color, while his boots, crown, sword, and shield are all made of gold. He also comes with a mask for the ball. With articulation only in his waist, arms, and neck, he can bow regally, but can't get down on bended knee to propose.
Rapunzel
Rapunzel is a classic fairy tale that has been told and retold through various cultures and mediums over centuries. The most widely recognized version is perhaps that collected by the Brothers Grimm. Here's a concise summary of the tale:
A childless couple lived next to a walled garden belonging to an enchantress named Dame Gothel. The wife, while expecting, developed a craving for a type of lettuce (or rampion) growing in this garden. Her husband sneaks into the garden to fetch it for her but is caught by Dame Gothel. In exchange for sparing his life, the enchantress demands the couple's unborn child. Upon birth, the baby girl is handed over to Dame Gothel, who names her Rapunzel after the plant her mother craved.
As Rapunzel grows, her hair becomes long, golden, and magical. To keep her from the outside world, Gothel locks Rapunzel in a tall, secluded tower with no doors, only a window. Whenever Gothel visits, she calls, "Rapunzel, Rapunzel, let down your hair," using it as a rope to climb up.
One day, a prince hears Rapunzel singing from the tower. Fascinated by her voice, he observes Dame Gothel's ritual and later uses the same chant to meet Rapunzel. They fall in love, and the prince plans to rescue her. However, their secret meetings are discovered by Gothel, who cuts off Rapunzel's hair and banishes her to a desert.
The prince returns to find Dame Gothel, who tricks him, leading him to leap from the tower in despair. He is blinded by thorns but eventually reunites with Rapunzel in the desert. Her tears of joy heal his eyes, and the couple returns to the prince's kingdom, where they live happily ever after.
The story of Rapunzel is a tale of love, betrayal, and redemption, emphasizing the lengths one might go for love and the transformative power of hope and reunion.