Barbie Studio Shake It Nails Activity Kit
Fun and beauty all in one gift.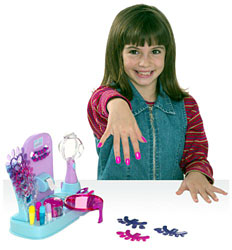 Girls can create nails with a paint-splattered look using a special shaker. By putting glitter in the shaker, girls can add some sparkle to their nails. Girls can also use the shaker to make speckled beads, then create their own unique jewelry. The kit comes complete with everything girls need to make lots of speckled nails, beads and bracelets. Set comes with refill packs.