New Barbie Volkswagen Microbus - Micro Bus Volkswagon
New Barbie Volkswagen Micro bus.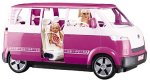 With this trendy Microbus, Barbie and five friends can cruise around town in style. Heads will turn and hearts will pound as this gorgeous vehicle drives by. There's a working horn, sliding door, sun shade, and removable car seat for Kelly doll.