Barbie Volkswagen New Beetle - Silver, Green, Different Volkswagon Beatle Colors
Great gift for a girl who loves Barbie.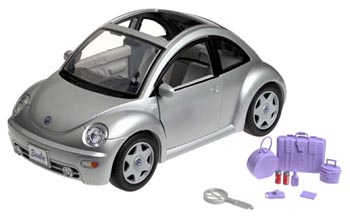 Barbie loves to wear the latest clothes, so of course she needs a car that's just as trendy--like this flashy silver Volkswagen Beetle (other colors available). It has an open sunroof, functional doors, and working seatbelts (which a smart girl like Barbie always wears). The hatchback trunk can lift open or unlock with a large, silver plastic key with its own mini Beatle key chain. Lots of little accessories are included, such as a suitcase, a makeup case, Coca-Cola cans, and decorative stickers kids can use on the car or themselves.