Barbie Ballerina Sisters
Barbie and Kelly Ballerina Dolls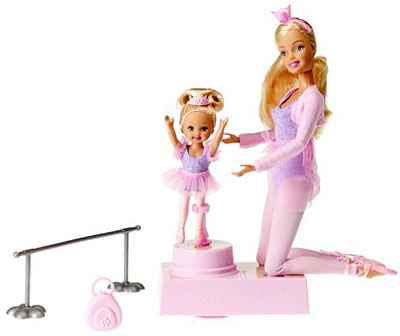 Barbie doll teaches Kelly doll how to ballet dance. The sisters always have fun together and now more than ever, dressed in beautiful ballerina attire. Comes with an electronic spinning musical dance stand for Kelly doll, ballet bar, and pretend boom box.
The Fascination of Children with Ballerinas
Ballerinas, with their grace, poise, and mesmerizing performances, have long captured the imaginations of children. The world of ballet is filled with fantasy, discipline, and beauty, elements that resonate deeply with young minds. Here's a look at why children are so fascinated with ballerinas:
Magic and Fantasy: Ballet often tells stories of fairytales, myths, and magic. Characters like the Sugar Plum Fairy from "The Nutcracker" or Princess Odette from "Swan Lake" enchant children with their tales of transformation, adventure, and romance.
Grace and Elegance: The fluid movements, high leaps, and intricate spins of ballet are captivating. For many children, watching a ballerina is like seeing a real-life fairy or princess in action.
Costumes and Stage: The sparkling tutus, tiaras, and elegant costumes add to the allure. The grand stages with their lavish backdrops and props create a world of wonder, transporting children to a realm of fantasy.
Discipline and Aspiration: Ballet represents discipline, dedication, and hours of practice. For many children, ballerinas become role models, embodying grace under pressure and the results of hard work.
Music: The classical scores accompanying ballet performances, be it Tchaikovsky or Prokofiev, are emotionally stirring and memorable. The music amplifies the storytelling, making the narrative more impactful for young audiences.
Relatability: Many children attend dance classes, where they're introduced to basic ballet movements. The connection between what they learn and the professional execution by ballerinas can be both inspiring and relatable.
Ballerinas represent a blend of artistry, athleticism, and fantasy. For children, they embody the possibility of dream fulfillment, the magic of storytelling, and the beauty of movement, making the world of ballet an enduring source of fascination.