Barbie Airplane
Barbie Airplane has everything your little world traveler needs to fly the Barbie skies.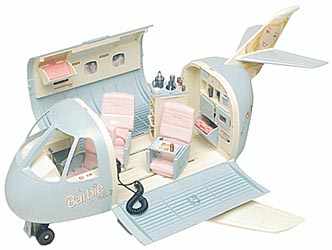 This aircraft has everything your little world traveler needs to fly the Barbie skies. It's loaded with fun features, from a microphone that actually works to a cool takeoff sound effect (which can be deactivated with a switch in case parents start to think they're living in a major flight path). The fully reclining seats are on sliding tracks, the better to maneuver while loading passengers, and the enclosed cart makes beverage service a snap. Ice cubes come rattling out of an ice cube maker; the luggage compartment has a suitcase that really opens; and seat belts fasten tight for safety. In-flight entertainment? Looks like a Beyond Pink music video is playing--make sure to get a headset so you can enjoy. When you close up the doors and roof, the whole shebang rolls, for long flights or just playtime on the go. Up, up, and away! The sides of the plane open to reveal a large realistic plane environment. Real working public address system with microphone. Take-off and landing electronic sounds. Food play area with working ice dispenser- also includes a microwave, refrigerator, water dispenser, cocoa dispenser. Airplane food cart that rolls up and down the aisles and stowes in the food play area. TV screen with tow images and window scenery that changes from day to night. Seats that slide back and forth, rotate, recline, fold down to create beds and detach for added play. Realistic cockpit with moving throttle and steering wheel. Overhead storage compartments just like a real plane. Luggage storage area in the back of the airplane with closing door, large suitcase and small suitcase.
How a Toy Airplane Can Encourage a Career in Aviation
A toy airplane, while seemingly simple, can plant the seed of curiosity and passion for aviation in a child's mind. It can be the initial spark that ignites a lifelong journey toward a career in the skies. Here's how this toy can influence and inspire a young mind towards aviation:
Stimulating Curiosity: Playing with a toy airplane can lead children to wonder about the science of flight, prompting questions like, "How do big planes fly?" or "What makes an airplane stay in the air?"
Introducing Aerodynamics: As kids zoom their toy planes around, they get a basic feel for aerodynamics. They intuitively learn about lift, thrust, drag, and gravity, even if they don't yet know these terms.
Role-Playing: Children might imagine themselves as pilots, air traffic controllers, or aircraft engineers, fostering an early identification with aviation professions.
Developing Spatial Awareness: Navigating a toy airplane through imagined landscapes or around obstacles in a room can help develop a child's spatial awareness, a crucial skill in actual piloting.
Encouraging Research: The interest kindled by a toy might encourage older kids to read about airplanes, watch documentaries, or even delve into flight simulation software.
Fostering a Love for Adventure: Aviation often symbolizes adventure, exploration, and reaching new horizons. Playing with toy airplanes can embed a love for these concepts.
Exposure to Technology: If a toy airplane comes with features like remote controls or simulations, it introduces kids to technology, electronics, and mechanics – foundational concepts in aviation.
Building Persistence: Mastering the controls of more complex toy airplanes, like model aircraft or drones, requires patience and persistence, valuable traits for rigorous aviation training in the future.
Community Engagement: Advanced toy planes might lead kids to join model aircraft clubs or attend aviation events, further solidifying their interest and introducing them to a community with shared passions.
A toy airplane is a miniature representation of human achievement, adventure, and exploration. For many professionals in the aviation industry, their love for the skies started in childhood, often with a simple toy plane in hand, dreaming of the vast, endless expanse above.