Barbie Dream House - Deluxe Alternative
Barbie can live in the lap of luxury with this fold-out, two-story Victorian dream house.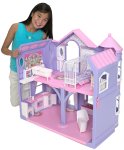 An alternative to the unavailable deluxe version, Barbie can live in the lap of luxury with this fold-out, two-story Victorian dream house that features a porch, balcony, and a working elevator. The fully furnished house includes a canopy bed with comforter and pillow, night stand, storage chest, clawfoot bathtub, and an armoire with doors that open. The living area comes complete with a high-backed couch, fireplace, and a bookcase with doors that open. The kitchen unit also comes well equipped with a sink, oven, ample counter space, and cabinet doors that open. Accessories include a dog with its own bed and pillow; living room items featuring vases, picture frames, books, and a telephone; and kitchen items including glasses, jars, plates, pans, knives, forks, and spoons. Girls will love helping Barbie get ready for a special family dinner or care for her baby sister, Krissy. The house features a working elevator, working doorbell, bedroom with canpoy bed, bathroom with Victorian-style tub, kitchen with pull-out table and seat, plus a high-chair and crib for Krissy. Dolls not included.
Features of Victorian-Style Homes
Victorian-style homes, popular primarily during the reign of Queen Victoria (1837-1901), boast a distinctive and ornate architectural style. These homes are known for their intricate detailing, varied shapes, and rich color palettes. Here's an overview of some defining features of Victorian-style homes:
Complex Rooflines: Victorian homes often have steeply pitched roofs with complex designs, incorporating elements such as gables, dormers, towers, turrets, and sometimes even spires.
Decorative Trim: One of the hallmark features of Victorian homes is the elaborate wooden trim known as "gingerbread" detailing. This can be found around windows, doorways, and eaves.
Ornate Porches: Many Victorian homes feature spacious, wrap-around porches adorned with decorative railings, spindles, and brackets.
Bright, Bold Colors: Known sometimes as "painted ladies," many Victorian homes are painted in multiple, vibrant colors to highlight the architectural detailing.
Bay Windows: These protruding windows, often found on the ground level, can be round or squared and typically have a series of windows that let in ample light.
Towers and Turrets: Many Victorian homes, especially Queen Anne subtypes, feature round or octagonal towers and turrets, giving them a castle-like appearance.
Stained Glass: It's common to find stained glass windows, especially in entry doors and transom windows, with intricate patterns or pictorial designs.
High Ceilings: Inside, Victorian homes often have tall ceilings, contributing to a sense of grandeur.
Wooden Detailing: Inside, expect to find intricate wooden work, including carved stair railings, built-in cabinetry, and detailed fireplace mantels.
Asymmetrical Floor Plans: Unlike the symmetrical designs of earlier architectural styles, Victorian homes often have an irregular and sometimes labyrinthine floor plan.
Victorian is an umbrella term covering various sub-styles, including Gothic Revival, Italianate, Second Empire, and Queen Anne, among others. Each of these sub-styles has its own distinct characteristics but shares the general Victorian love for ornamentation and detail.