Barbie iDesign
Barbie ultimate stylist design studio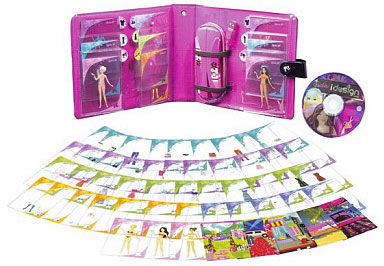 Design cool clothes by layering the cards to design thousands of looks. Swipe the idesign fashion cards to see the look on the runway. Be a Barbie fashion designer. Layer these innovative fashion cards to create lots of great looks on Barbie and her friends, then pop in the CD-ROM to continue the fashion designing fun on your computer. It's fashion play in a brand new way. Girls can create beautiful hair styles and mix their very own yummy candy flavored lip gloss with the Candy Glam Style Station. Girls can make lip gloss using the easy-to-use lip gloss mixer, four different flavored and scented lip glosses (strawberry, blueberry, grape, vanilla) and loose glitter. Girls can then choose their favorite colors to blend and add sparkle from the glitter wand. By simply attaching any of the three sweet treat containers to the mixer, girls spin to create their very own creations. The containers can be used to store the lip gloss or serve as storage for toy jewelry or accessories. Girls can also style the beautiful candy-scented styling head using the hard candy hairclip and the pretty hairbrush included.
The Fun of a Lip Gloss Mixer
A lip gloss mixer that allows for blending different scents and adding glitter presents a unique and delightful experience, especially for those who enjoy creativity and personalization. Here's a glimpse into the allure of such a fun and interactive kit:
Personal Expression: The ability to mix and match various scents and glitters allows users to create a product that truly reflects their personality and preferences. Every creation becomes a signature blend.
Sensory Experience: The joy of blending different scents provides a multisensory experience. The process of choosing, combining, and finally smelling the unique concoctions can be incredibly satisfying.
Experimentation: The mixer kit acts as a mini-lab where users can experiment with different ratios of scents and glitter. This trial-and-error approach can lead to unexpected and delightful results.
Boosts Creativity: Deciding on the right combination of scents and the amount of glitter challenges the user's creative instincts. It's an artistic endeavor, where the lip gloss becomes a canvas.
Feeling of Accomplishment: Creating a customized lip gloss from scratch offers a tangible sense of achievement. Using or sharing a self-made product is far more gratifying than simply buying one off the shelf.
Social Fun: Such kits can become the centerpiece of gatherings or sleepovers. Friends can challenge each other to create unique blends, share their concoctions, or even gift their masterpieces to one another.
Learning Element: Beyond just fun, the process subtly introduces users to concepts like blending, ratios, and the chemistry of how different ingredients interact. It's experiential learning wrapped in a fun activity.
A lip gloss mixer kit is an avenue for self-expression, creativity, and even scientific exploration. It turns the everyday act of applying lip gloss into a personalized experience, making the end product all the more special.