Barbie Jeep
Power Wheels Barbie Cruising Tunes Jeep.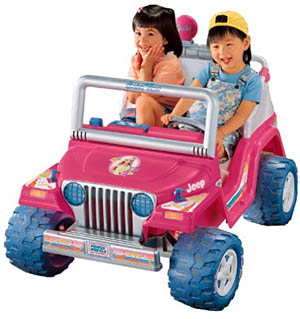 Your kid will love cruisin' with DJ Barbie and listening to the radio as it plays four minutes of music and 19 fun phrases. For even more excitement, the hood opens and closes, the dash has a turning key and play phone, and the Power Stick shifter really works. Pretend seat belt, sporty canopy, and handy storage are additional features that make every ride a fun-filled one. Features include: Power Lock brake for safe, easy stops. Holds up to two kids for a maximum weight of 130 pounds (59 kilograms). 2.5 and 5 mph maximum forward speed. 2.5 mph maximum reverse speed. For use on hard surfaces and grass. 12-volt rechargeable battery and charger included. Sound box requires three AAA batteries (not included). Adult assembly required; instructions included. Adult supervision required. One-year bumper-to-bumper warranty (excluding battery).
The Fun of a Battery-Powered Play Vehicle for Children
Battery-powered play vehicles that children can ride in, often called "ride-on toys" or "power wheels," provide a unique blend of excitement, imagination, and autonomy for young adventurers. Let's delve into the many facets of fun these toys offer:
Sense of Independence: One of the primary appeals of these vehicles is the sense of independence they provide to children. Being able to control their movement gives them a feeling of maturity and autonomy, much like how adults feel when driving real vehicles.
Imaginative Play: These vehicles serve as a platform for imaginative scenarios. One day, a child might be a firefighter racing to save the day, and the next, they might be on a safari adventure spotting wild animals.
Physical Activity: While they might be battery-powered, these vehicles still require children to engage in physical activity. Steering, getting in and out, and occasional pushing when the battery runs out all contribute to physical exertion.
Coordination and Skill Development: Operating a battery-powered vehicle helps enhance a child's hand-eye coordination, spatial awareness, and motor skills as they navigate around obstacles and determine speed and direction.
Outdoor Exploration: These vehicles often encourage outdoor play, allowing children to explore their surroundings, appreciate nature, and get a healthy dose of fresh air.
Social Interaction: Riding around in these vehicles can be a social activity. Kids often engage in collaborative play scenarios, race each other, or simply show off their rides to friends and family.
Understanding Cause and Effect: As children operate the vehicle's controls, they begin to understand the relationship between actions and their outcomes—pushing a pedal results in movement, turning the steering wheel changes direction.
Feeling of Accomplishment: Mastering the controls, navigating around obstacles, or simply driving without help can give children a sense of achievement and boost their confidence.
Battery-powered play vehicles offer children a multi-dimensional play experience, blending the thrill of motion with developmental benefits. They're not just toys but gateways to adventure, learning, and growth.