Barbie Radio House Alternative : Barbie Alarm Clock Radio
Description and purchasing information.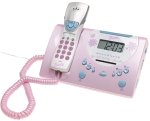 The Barbie Radio House is no longer available, but this Barbie Clock Radio has a built-in night-light that can be set to automatically turn on when room darkens. Sleep to three soothing melodies. Wake to choice of three alarms, including the voice of Barbie, melodies, and bells. Cool pretend radio plays 16 groovy songs. Battery backup for clock and alarm times.