Barbie Shop With Me Cash Register - Money Learning Toy
Barbie cash register.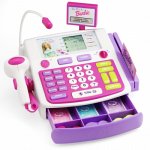 The Barbie Shop With Me Cash Register proves once again that Barbie is the coolest. Made durably and in Barbie's trademark colors (pink, hot pink, purple, white, etc.), this is a sleek number that can be operated on the floor, bed, or tabletop. It features four realistic ways to buy noodles, yogurt, and toilet paper. Option 1: A "clerk"--either a child or Barbie--scans the bar codes of included price tags. Option 2: You can manually input the price of items. Option 3: Items may be scrolled down the register. Option 4, which is, by the way, your humble writer's favorite: Make up your own prices. Get "Barbie Discounts" when you use your savings debit card. The Barbie register comes with a slew of accessories, including 18 scannable price tags, play money, play credit/debit cards, a keypad, built-in microphone, and a 120-item shopping catalogue offering everything from Barbie-brand jeans to junk food. The machine features a high-tech hand-held scanner and LCD on the register, which shows a customer's subtotal, item number, unit price, and total. You get everything but a receipt. Hmmm. A built-in microphone allows your child to make store announcements and call for price checks and item voids. This heightens the interaction this toy was built for, since Barbie's voice simulates the real shopping experience enough already.Register comes with all accessories, manufacturer's warranty, a real grocery store coupon for a kid's treat, and the four required AA batteries. Now young girls can pretend to shop without ever leaving the house. The Shop With Me Cash Register combines real shopping interaction with a high-tech electronic system for kids to learn all about numbers, enhance their social skills, and have hours of fun.
Learning Basic Finance Skills with a Toy Cash Register
A toy cash register is a a valuable educational tool that can introduce children to fundamental financial concepts. The hands-on experience with pretend money, transactions, and basic arithmetic can set the groundwork for important life skills. Here's how a toy cash register can benefit a child's financial understanding:
Basic Arithmetic Skills: Operating a cash register requires calculations. Whether it's adding the cost of multiple items, calculating change, or counting coins, it offers children an engaging way to practice basic math skills.
Understanding Currency: Children can familiarize themselves with the various denominations of coins and bills, learning the value of each and how different denominations relate to one another.
Role-playing and Real-world Simulation: Playing storekeeper and customer allows children to simulate real-world buying and selling situations, which can be a precursor to understanding the dynamics of the marketplace.
Grasping the Concept of Transactions: Through play, children can understand the fundamental principle of exchanging money for goods or services, which is central to commerce and trade.
Learning the Importance of Savings: By giving and receiving change, children can begin to grasp the concept of savings – that not all money given is spent and some is returned or kept aside.
Developing Responsibility: Operating the register and handling pretend money can instill a sense of responsibility in children. They learn to be careful with counting money, ensuring they give and receive the correct amount.
Improving Cognitive Skills: Playing with a cash register can enhance cognitive skills such as problem-solving (determining how much change to give) and critical thinking (deciding on the combination of coins and bills to use).
Enhancing Social Skills: Engaging in role-play scenarios involving buying and selling can help children develop social skills like negotiation, communication, and cooperation.
Appreciation for Hard Work: By "earning" pretend money as a storekeeper or understanding that items have a cost, children can develop an early appreciation for the value of hard work and the concept of earning.
A toy cash register provides a fun and interactive way for children to get acquainted with basic financial concepts. These early lessons can serve as building blocks for more complex financial understandings and responsible habits in adulthood.