Barbie Shop With Me Cash Register - Money Learning Toy
Barbie cash register.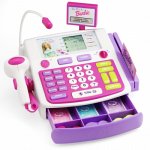 The Barbie Shop With Me Cash Register proves once again that Barbie is the coolest. Made durably and in Barbie's trademark colors (pink, hot pink, purple, white, etc.), this is a sleek number that can be operated on the floor, bed, or tabletop. It features four realistic ways to buy noodles, yogurt, and toilet paper. Option 1: A "clerk"--either a child or Barbie--scans the bar codes of included price tags. Option 2: You can manually input the price of items. Option 3: Items may be scrolled down the register. Option 4, which is, by the way, your humble writer's favorite: Make up your own prices. Get "Barbie Discounts" when you use your savings debit card. The Barbie register comes with a slew of accessories, including 18 scannable price tags, play money, play credit/debit cards, a keypad, built-in microphone, and a 120-item shopping catalogue offering everything from Barbie-brand jeans to junk food. The machine features a high-tech hand-held scanner and LCD on the register, which shows a customer's subtotal, item number, unit price, and total. You get everything but a receipt. Hmmm. A built-in microphone allows your child to make store announcements and call for price checks and item voids. This heightens the interaction this toy was built for, since Barbie's voice simulates the real shopping experience enough already. "Cash or charge?" she asks in a perky tone. Tip: If you don't pay up at once with your Barbie greenbacks or American Express-like credit card, you'll be harassed. We writers found ourselves fumbling through our own wallets, trolling for coupons. Barbie prompts the shopper throughout the entire process ("Seventeen dollars and twelve cents... No... seventeen dollars and TWELVE cents."). And parents--there's no volume control. If you just happen to sneak a play while your kid's eating lunch, well... everybody in the house will hear if your card is over the limit. Just kidding. But it's best to use Barbie's credit cards anyway. This kind of hectic shopping experience makes adults really appreciate the online shopping experience, but kids will love it so much they'll forget it's just a pretend play toy. Register comes with all accessories, manufacturer's warranty, a real grocery store coupon for a kid's treat, and the four required AA batteries. Now young girls can pretend to shop without ever leaving the house. The Shop With Me Cash Register combines real shopping interaction with a high-tech electronic system for kids to learn all about numbers, enhance their social skills, and have hours of fun.