Barbie Cooking Oven Bake Shop and Cafe
Barbie Bake With Me Oven by Tara Toys.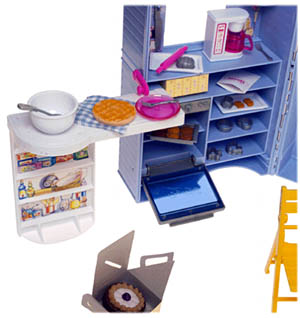 At the Barbie Bake Shop and Cafe Barbie's friends can sit in the two yellow plastic folding chairs at the round folding table and peruse the tiny menus. What should they order for lunch? Barbie will be busy baking lots of goodies in her folding light blue shop, which includes a mini kitchen with oven, refrigerator, and prep counters on one side, and a store counter with cash register and display case on the other. Cooking equipment, pretend food, dishes, and play money are included to add realistic touches. The oven door and cash register drawer open, and the Barbie-pink wall telephone has a removable receiver so Barbie can accept calls for takeout.
The Joy of Cooking and Baking Playsets for Children
Cooking and baking playsets have been a staple in the world of children's toys for decades. These playsets not only offer endless hours of fun but also provide developmental benefits. Here's a look into why children are so captivated by them:
Imitation of Adults: Children often look up to adults and seek to emulate their behaviors. Playing with cooking and baking sets allows them to mimic the actions they see their parents or caregivers doing in the kitchen.
Creativity and Imagination: These playsets provide a canvas for children's imagination. Whether they're preparing a meal for their stuffed animals or baking imaginary pastries, the possibilities are limitless.
Sensory Exploration: Cooking and baking playsets come with various textures, shapes, and sometimes even sounds and smells. Engaging with these diverse elements stimulates a child's senses and enhances their sensory understanding.
Development of Fine Motor Skills: Using tiny utensils, pots, and ingredients requires precision and dexterity. Regular play can help hone these skills, which are essential for tasks like writing and buttoning clothes.
Understanding Sequences and Processes: Following "recipes" or creating dishes allows children to grasp the concept of sequences and processes, laying the foundation for logical thinking and problem-solving.
Social Play: Cooking and baking sets often encourage group play. Sharing, cooperating, and communicating with peers during these play sessions can bolster social skills.
Nurturing Instinct: Playing chef allows children to care for their "guests" (real or imaginary). This nurturing behavior can foster empathy and compassion.
Building Self-Esteem: Successfully "preparing a meal" can give children a sense of accomplishment, bolstering their confidence and self-worth.
Real-Life Skill Introduction: While the primary purpose is to play, children also get introduced to basic cooking and baking concepts, which are invaluable life skills for later years.
Cooking and baking playsets entertain and educate. They provide a safe environment for children to explore, learn, and grow, all while fostering a love for culinary arts.