Barbie Cooking Oven Bake Shop and Cafe
Barbie Bake With Me Oven by Tara Toys.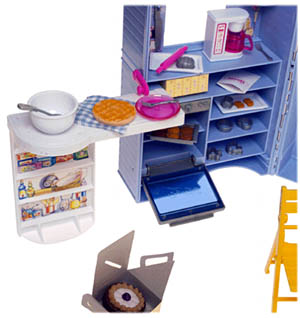 At the Barbie Bake Shop and Cafe Barbie's friends can sit in the two yellow plastic folding chairs at the round folding table and peruse the tiny menus. What should they order for lunch? Barbie will be busy baking lots of goodies in her folding light blue shop, which includes a mini kitchen with oven, refrigerator, and prep counters on one side, and a store counter with cash register and display case on the other. Cooking equipment, pretend food, dishes, and play money are included to add realistic touches. The oven door and cash register drawer open, and the Barbie-pink wall telephone has a removable receiver so Barbie can accept calls for takeout.