Cool Clips Barbie Doll
Barbie doll has extra-long hair and trendy Color Change hair extensions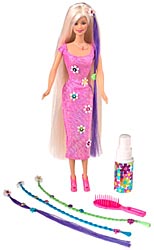 In addition to her long platinum-blonde locks, Barbie also has four 10-inch-long, colored strands of clip-on hair. There are two hair extensions in purple, a green braided extension, and a blue braided one. Attach them to her hair with the included floral clips and follow the suggestions for knotting, twisting, and additional braiding. Then fill the 4-inch-high atomizer with cold water, spray, and watch as the hair extensions magically change color. Barbie's rainbow tresses are set off by a long pink dress with silver highlights and jewel-centered flowers. She also has matching platform shoes and a hairbrush, of course. Barbie doll has extra-long hair and trendy Color Change hair extensions. Girls just spray the hair extensions with icy water to make them change color, then change them back by holding them between their palms for a few moments. Includes four clip-on Color Change hair extensions, water spray bottle, four flower-shaped hair clips and six hair gems.
The Fun of Hair Extensions for Dolls: A Fresh Look Every Time
Hair extensions for dolls have become a popular accessory, allowing children (and sometimes collectors) to indulge in creative expression. These extensions provide a versatile platform for imagination and play. Here's why they are so enjoyable and impactful for changing up a doll's appearance:
Variety and Versatility: Hair extensions offer an immediate transformation. One day, the doll might have short, curly hair, and the next, she can sport long, straight locks. This flexibility keeps playtime fresh and exciting.
Creativity and Expression: Children can experiment with different colors, lengths, and styles. Whether it's matching the doll's hair to their own, trying out a rainbow of colors, or replicating styles they've seen, the possibilities are endless.
Role-playing and Storytelling: A change in hairstyle can lead to an entirely new character or storyline. The doll could be a rock star with bright pink extensions today and a mermaid with long wavy locks tomorrow.
Skills Development: Applying, styling, and caring for hair extensions can help hone fine motor skills. It requires precision, patience, and coordination to place and style the extensions just right.
Fashion and Trend Exploration: Hair extensions allow kids to experiment with current hair trends and fashions without any permanent changes. It's a fun way to explore the world of fashion and beauty.
Emulating Real-life Experiences: Just as adults might change their hairstyle or color, dolls can do the same. Children enjoy mimicking real-life situations, and dolls offer a safe platform for this exploration.
Building Confidence: Successfully changing and styling a doll's hair can give children a sense of achievement. It allows them to take control and make decisions about the doll's appearance, bolstering their self-confidence.
Enhanced Play Value: With the addition of hair extensions, the doll becomes a more versatile toy. The added play value can rekindle interest in older dolls and prolong the life of the toy.
Hair extensions for dolls amplify the fun and creativity of playtime. They offer a dynamic element to a beloved toy, ensuring that every play session can be a unique and imaginative experience.