Barbie Designable Hair Extensions
Real Barbie hair designed to wear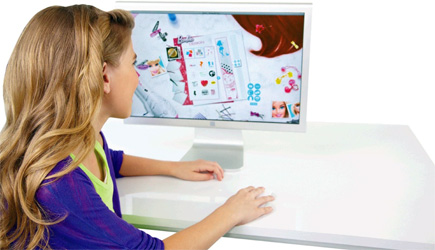 Make your own fashion design statement with hundreds of laser-jet printer friendly designs from which to choose. Girls can design and create their very own personalized hair extensions printable on any inkjet printer. The process starts online by designing your very own hair extensions, then print and wear. Designable Hair Extensions comes with a Barbie doll and includes sixteen hair extensions, three large clips and two small clips for unique and personalized looks allowing for abundant hair play and fun.
The Fun of Designable, Printable Hair Extensions
Designable, printable hair extensions take the world of personal style and fashion to a whole new level. These extensions allow individuals to express their creativity, individuality, and mood in a fun and ever-changing manner. Here's why designable, printable hair extensions are such an exciting concept:
Personalized Expression: With the ability to design and print hair extensions, individuals can create pieces that perfectly match their style, whether it's a specific pattern, color gradient, or even a personal artwork or design.
Ever-Changing Styles: Fashion and moods change, and with printable hair extensions, one can adapt their hair look accordingly. Today's tropical print can be tomorrow's galaxy design, giving endless versatility to hairstyles.
Creative Outlet: Designing hair extensions can be a creative endeavor, allowing individuals to experiment with colors, patterns, and graphics. It's an opportunity to be both an artist and a canvas.
Special Occasions: Themed parties, birthdays, or events become even more special when one can print hair extensions to match the occasion. Whether it's a friend's favorite colors for their birthday or holiday-themed designs, the possibilities are limitless.
Conversations and Bonding: Unique and eye-catching hair extensions can be conversation starters. They can also be an activity that friends do together, designing and then showcasing their creations.
Economic and Sustainable: Instead of buying multiple hair extensions to match different outfits or moods, printable extensions can be updated and redesigned as needed, potentially reducing waste and costs.
Safe Exploration: For those who might be hesitant about permanently changing their hair with dyes or other treatments, designable, printable hair extensions offer a non-committal way to experiment with different looks.
In a world where personalization is increasingly cherished, designable, printable hair extensions offer a fresh and innovative way to express individuality. They transform hair from merely a feature to an ever-evolving statement of style, mood, and creativity.