Barbie Diaries
Teen recording artist Skye Sweetnam unlocks high school diary secrets in eight original contemporary music pop singles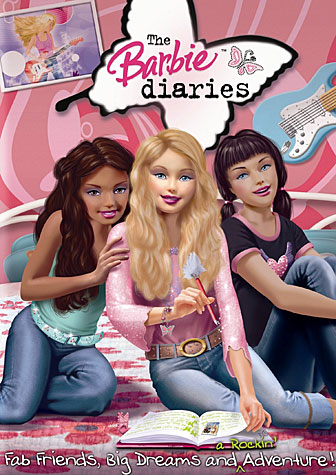 In the direct-to-DVD release of The Barbie Diaries, Barbie teamed up with recording artist Skye Sweetnam to bring the voice of high schoolers to life with hip, contemporary music. The DVD features eight original songs, including four sung by Sweetnam. Set to music featuring her voice and four other up-and-coming bands, Barbie portrays a high school student whose real life adventures include forming her own band Charmz and auditioning for a gig to play at the Fall Formal.
Featuring a distinctive toon-shaded CGI animated look, the release is supported with a full line of themed dolls and electronic toys.
"We anticipate The Barbie Diaries to be a hit among girls who have grown up with Barbie movies and love music," said Richard Dickson. "We knew the music had to be fresh and Skye's original sound and blend of rock, pop and electronica celebrates the spunk and spirit that Barbie reflects as a teenager."
The combination of contemporary music with a diary theme will appeal to young girls. A recent Omnibus survey found that 74 percent of girls have kept a diary at some point in their lives. The top five for-my-eyes-only topics included thoughts about friends, family, secrets, boys, and creative musings (poems, stories, sketches). Brothers and sisters ranked highest (nearly 20 percent each) in breaching diary security by reading without permission.
"Just like Barbie, my diary was where I could write down all my secrets, fears, and dreams," said Skye. "Today, I'm fortunate to be able to share all my thoughts and feelings with girls across the world, through my songwriting."
Skye Sweetnam co-wrote most of the songs on her debut album, Noise from the Basement. She was named one of the Ten Artists to Watch by Rolling Stone. In 2004, Skye performed in sold-out shows across North America and Europe as the opening act of Britney Spears' Onyx Hotel Tour. Skye also sings the theme songs for both The Disney Channel's hit show Buzz on Maggie and The N's Radio Free Roscoe.
As the new school year begins, Barbie is hoping her sophomore year will bring some exciting changes. With a special diary and charm bracelet, Barbie finds the courage to try to be herself and learns valuable lessons about friendship, self-confidence and even romance. Girls got a taste of pop stardom with two DVD bonus features, including Sweetnam's music video and a behind-the-scenes peek of one of her recording sessions.