Barbie Digital Camera
Snap real pictures and download or e-mail them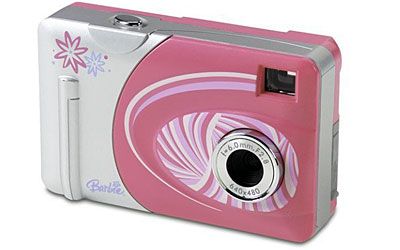 Barbie loves taking pictures with her friends and now you can capture digital images and video with the new Barbie Digital Camera. Camera can store twenty images in high resolution or up to over a hundred images in the low-resolution setting before you need to transfer images to a PC. Once you have downloaded your pictures, fun, and creativity can continue. Use the Barbie photo designer software to customize your pictures, create cool Barbie calendars, Barbie picture frames and more. Use the camera in video setting for video clips up to fifteen seconds long. This camera can also be used as a web cam to send images to your friends. Comes with base stand, USB cable, software, CD and hand strap.
A Barbie-themed digital camera merges the iconic world of Barbie with the ever-evolving realm of technology, offering a product that resonates with both nostalgic charm and modern functionality. Here's an exploration of the appeal of such a unique gadget:
Branding Magic: Barbie, as a brand, has been a beloved figure for generations. The association of Barbie with a digital camera instantly adds a layer of allure and familiarity, making the product more attractive to fans.
Fashionable Design: Given Barbie's legacy in the world of fashion, a Barbie-themed camera is likely to have a stylish and trendy design, appealing to those who appreciate aesthetics.
Empowerment and Expression: Barbie has always been about empowerment and the idea that one can be anything. A camera aligns with this message, allowing kids to explore and express themselves through photography.
Functional Novelty: While there are many digital cameras on the market, a Barbie-themed one stands out. This novelty can make young photographers feel that they own something unique.
Integrated Play: A Barbie-themed digital camera can seamlessly integrate with other Barbie toys and playsets. Kids can have photo shoots with their Barbie dolls, enhancing the overall play experience.
Learning Opportunity: Beyond the Barbie theme, a digital camera is a tool that can introduce kids to the basics of photography, from framing shots to understanding lighting, fostering a new hobby or passion.
Collectibility: For Barbie collectors, a themed digital camera can be a unique addition to their collection, representing a fusion of Barbie's timeless appeal with contemporary tech.
A Barbie digital camera is a blend of fashion, functionality, and the enduring charm of Barbie. It offers a tool for creative expression while evoking the magic of a brand that has inspired countless imaginations across the globe.