Fashion Party Teen Skipper Doll
Celebration of style and imagination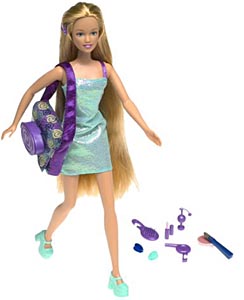 Barbie's younger sister, Skipper, is headed to a fashion party, where she and her friends will create stylish outfits from just a few pieces. Skipper arrives at the party in a short, pale aqua dress made of stiff, shiny fabric, with matching plastic aqua platform shoes. Her coordinating clothing items are purple satin pants, a strapless satin top with a large swirl design on the front, and a royal blue stole that can double as a long-sleeved, cropped top. Two additional items made from sparkly fabric with a multicolored swirl design include a sleeveless top and a large shoulder-strap purse with a removable container of lip-gloss. A set of miniature, plastic pretend makeup and grooming items in bright purple are also enclosed.
The Joy of Fashion Parties for Dolls: A Celebration of Style and Imagination
Fashion parties for dolls are a delightful way for children to engage in imaginative play, expressing their creativity and sharing their love for their toy companions with friends. These parties reflect a blend of social interaction, role-playing, and artistic expression. Here's a deeper dive into why children revel in organizing and partaking in such festivities for their dolls:
Social Interaction: Fashion parties provide an opportunity for children to come together, bond, and share their favorite dolls and outfits. It's a social event that encourages teamwork, communication, and sharing.
Role-playing: Children can take on various roles during the fashion party, such as a fashion designer, model, judge, or even a fashion show announcer. This role-playing nurtures their understanding of different perspectives and situations.
Creative Expression: Choosing outfits, accessories, and hairstyles for their dolls allows children to express their unique sense of style. They can experiment with colors, patterns, and combinations to create the perfect look.
Boosting Confidence: Presenting their dressed-up dolls and receiving compliments from friends can enhance a child's self-esteem. It validates their creative choices and efforts.
Learning Opportunity: Children can learn about fashion trends, different cultures, and historical periods based on the outfits and themes they choose for their dolls. It's an engaging way to explore various facets of fashion and history.
Enhanced Engagement: Fashion parties can rejuvenate interest in older dolls. By dressing them up and introducing them in new scenarios, the dolls gain a fresh lease of life in the eyes of their young owners.
Storytelling: The fashion party can be incorporated into a broader storyline. Maybe the dolls are attending a grand ball, a movie premiere, or a casual gathering. These narratives further enrich the play experience.
Tangible Interaction: In a world increasingly dominated by digital interactions, fashion parties for dolls offer hands-on, tactile play, which is essential for a child's sensory and motor skill development.
Fashion parties for dolls are a holistic play experience that melds creativity, learning, and social engagement. Through these parties, children find an outlet for expression, storytelling, and connection, making them a cherished aspect of childhood for many.