Fashion Party Teen Skipper Doll
Discount, best place to buy.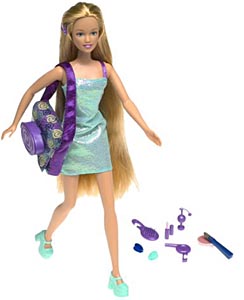 Barbie's younger sister, Skipper, is headed to a fashion party, where she and her friends will create stylish outfits from just a few pieces. Skipper arrives at the party in a short, pale aqua dress made of stiff, shiny fabric, with matching plastic aqua platform shoes. Her coordinating clothing items are purple satin pants, a strapless satin top with a large swirl design on the front, and a royal blue stole that can double as a long-sleeved, cropped top. Two additional items made from sparkly fabric with a multicolored swirl design include a sleeveless top and a large shoulder-strap purse with a removable container of lip-gloss. A set of miniature, plastic pretend makeup and grooming items in bright purple are also enclosed.