Barbie Fashionistas
Trendy Barbie dolls - girly, artsy, cutie, sassy, wild, glam - are bendable in twelve places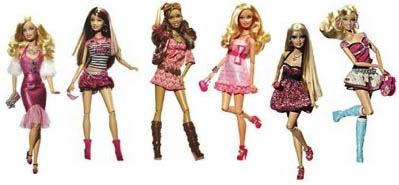 Strike a pose and express your fashion personality with Barbie Fashionistas dolls. Are you Glam, a Cutie, Girly, Wild, Sassy or Artsy? The Fashionista dolls wear the trendiest fashions and have twelve points of articulation. Each doll has a distinct mood and personality reflected in their clothes and accessories. Each modern Barbie fashion doll comes with purse or fashion accessory.
Articulating fashion dolls that come with a variety of trendy fashions and accessories offer an immersive, creative, and dynamic play experience. These dolls not only allow for poseability but also provide a canvas for imaginative storytelling and personal expression. Here's a look into the allure of such dolls:
Dynamic Poses: Articulation allows the dolls to adopt various poses, making playtime more realistic. Whether it's dancing, sitting, or even striking a high-fashion runway pose, the range of motion adds depth to the play.
Personal Expression: With a myriad of trendy outfits and accessories, players can mix and match to create unique looks, allowing them to express their personal style and fashion sensibilities.
Storytelling Potential: Different outfits and poses can set the scene for countless narratives. From everyday adventures to glamorous events, these dolls can be protagonists in any story a child imagines.
Fashion Exploration: The ever-evolving world of fashion is at one's fingertips. Children can explore different styles, combinations, and trends, making them mini-fashionistas.
Accessories Galore: Accessories like handbags, shoes, jewelry, and sunglasses provide the finishing touches to a doll's look. Each piece can drastically change an outfit, teaching kids about the importance of details.
Social Play: Fashion dolls become even more fun in a group setting. Friends can have fashion shows, create stories together, or swap clothing and accessories, fostering bonding and shared creativity.
Skills Development: Beyond just fun, selecting outfits, and accessories can sharpen a child's decision-making skills. Plus, manipulating the tiny accessories and articulating limbs can enhance fine motor skills.
Fashionistas are tools for self-expression, creativity, and imagination. They reflect the world of fashion in miniature, allowing children to step into the shoes of a designer, stylist, or storyteller, making playtime both fun and enriching.