Barbie Glam Vacation Jet
Deluxe Barbie airplane with tropical vacation setting included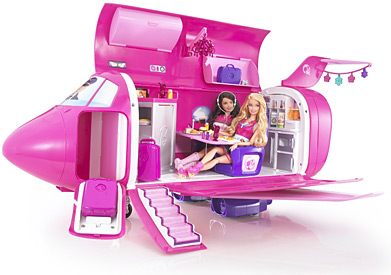 The nice thing about this Barbie set is that it has a dual function: it gets Barbie and her friends to their destination and it also provides furnishings for the luxury retreat destination once one is there. The location setting centers around a juice bar. The juice that one gets from the bar can then be enjoyed in hammocks, a kind of furnishing that creates a tropical feel. The fancy treat of the commercial centers around being pampered. Ken is pictured as the steward in the ad, with Barbie and her friends taking it easy in comfort. The same service is extended to the destination, where Ken continues to wait on the girls.
The Fun of a Luxury Tropical Barbie Vacation
Imagine Barbie embarking on a luxurious tropical vacation, where azure waters meet pristine white beaches, and the sun sets in a burst of vibrant colors. A luxury tropical Barbie vacation is more than just a playset; it's a gateway to a world of opulence, adventure, and imagination. Let's dive into the myriad fun elements this concept brings:
Exquisite Scenery: Visualizing Barbie lounging on a sunbed with a backdrop of palm trees and turquoise waters can transport players to a world of relaxation and serenity.
Fashion Parade: Tropical vacations demand a whole new wardrobe! Think swimsuits, sundresses, oversized hats, and chic sunglasses. Dressing Barbie in various tropical outfits can be an endless source of fun.
Adventure Galore: From snorkeling with colorful fish to jet-skiing across clear waters, there's no end to the adventures Barbie can embark on, allowing players to create action-packed narratives.
Luxury Amenities: Picturing Barbie in a beachfront villa with a private pool, sipping on a mocktail from a coconut, introduces children to the world of luxury and the finer things in life.
Cultural Exploration: Tropical locations often come with rich cultures. Barbie can participate in local dances, taste exotic cuisines, or shop at vibrant markets, offering an educational angle to the play.
Wildlife Interaction: The tropics are home to diverse wildlife. Barbie might find herself befriending parrots, observing sea turtles, or even taking a ride on a friendly dolphin.
Social Scenarios: Luxury resorts are social hubs. Barbie could meet new friends, attend beach parties, or even have a romantic sunset dinner, providing endless storylines for social interaction.
Relaxation & Self-care: Playtime can also involve scenes of Barbie indulging in spa treatments, meditative yoga by the beach, or simply enjoying a book in a hammock, emphasizing the importance of relaxation and self-care.
A luxury tropical Barbie vacation encapsulates the essence of dream vacations, introducing players to a world where relaxation meets adventure. It offers a holistic play experience that's not just about glamor but also about exploration, adventure, and self-discovery.