Hollywood Nails Barbie
Barbie is ready to dance the night away, disco-style, in her glittery silver and teal outfit and platform sandals.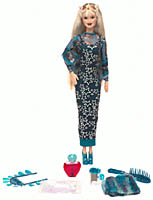 Barbie is ready to dance the night away, disco-style, in her glittery silver and teal outfit and platform sandals. This girl really sparkles, and so will you and your household after playing with Hollywood Nails Barbie. She comes complete with faux nails and adhesive (single use), a heart-shaped bottle of special nail polish for enhancing already glittery nails, and nail glitter that's guaranteed to make your home a sparkling wonderland once the package is opened. The fake nails, sized for kids' hands, should only be applied to dry nails and should not be used for more than 12 hours. Barbie doll wears a trendy mix 'n match stretch tube fashion that girls can use to create different trendy looks. Barbie doll wears a long sleeved teal dress with photo montage, a dark grey mesh dress with silvery glitter print stars and yarn tube waist belt. Includes glitter print shoes and a handbag. Barbie doll comes with cool nail polish and a set of glitter press on nails for the girl.
The Magic of Fake Nails: A World of Glitter, Patterns, and Colors
Fake nails adorned with glitter, patterns, and vibrant colors have become a popular form of self-expression and a favorite accessory for many. These embellished nails offer a way to momentarily transform one's appearance, exuding confidence and style. Here's a look at why they are such a hit:
Instant Transformation: Fake nails provide an immediate makeover to one's hands. Even if you're wearing something simple or casual, decorated fake nails can make a statement and elevate your entire look.
Expressing Individuality: With countless designs, colors, and patterns available, fake nails allow wearers to showcase their unique sense of style and personality. Whether you're feeling elegant, bold, quirky, or minimalist, there's a nail design to match your mood.
Celebration of Creativity: Adorning nails with intricate patterns, sparkling glitter, and vivid colors is an art form. It's a way to celebrate creativity and indulge in artistic expression, right at your fingertips.
Special Occasions: Whether it's a wedding, a party, or a festival, themed fake nails can complement your outfit and make you stand out. They can be the perfect finishing touch for any event.
Boosting Confidence: Beautiful nails can boost self-esteem. Many people feel more confident and put-together when their nails are done, adding a spring to their step.
Easy and Hassle-Free: For those who find it challenging to maintain long nails or achieve intricate nail art designs, fake nails are a blessing. They offer a flawless, salon-worthy look without the time commitment or skill.
Changeability: Tired of one look? You can easily switch to another. Fake nails allow for versatility, letting you change your nails to match outfits, occasions, or simply your changing moods.
Social Aspect: Discussing nail designs, sharing application tips, or even flaunting nails on social media can be a fun way to connect with others and be part of a community that appreciates nail art.
Fake nails adorned with glitter, patterns, and colors offer a blend of art, fashion, and self-expression. They are a reflection of one's personality and a medium to celebrate individuality and creativity.