Pajama Fun Skipper Doll
Pajama party fun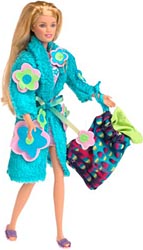 Skipper doll comes with a real working Magic Date Ball game for pajama party fun. When Skipper is ready for bed her pajama bag magically turns into a sleeping bag. Skipper doll comes with a trendy matching inflatable pillow to have the coolest of pillow fights. Skipper doll and her friends can also try out the latest hairstyles with their glow-in-the dark hair squigglies and hair brush. She is flower-themed and wears a pink nightgown with a long blue fuzzy robe and purple slippers. Skipper's friends Courtney and Nikki are available separately.
The Endless Delight of Pajama Parties
Pajama parties, often referred to as "sleepovers," have been a cherished tradition for many, offering a blend of bonding, entertainment, and cozy comfort. Pajama parties are synonymous with unforgettable memories. Here's a dive into the joy they bring:
Bonding and Friendship: Pajama parties provide a relaxed environment for friends to bond, strengthening connections and forging deeper relationships. It's a chance for uninterrupted chatter, secrets, and shared experiences.
Escaping Routine: Breaking away from the usual bedtime routine feels adventurous. The sheer act of staying up late, sleeping somewhere different, or being with friends feels like a mini vacation from daily life.
Creative Play: Activities like DIY facials, nail painting, and crafting often find their way into pajama parties, allowing participants to get creative and playful in a comfortable setting.
Movie Marathons: Watching movies or bingeing on TV shows is a hallmark of many sleepovers. Wrapped in blankets with popcorn in hand, everyone can dive into cinematic adventures together.
Delicious Treats: Pajama parties are often accompanied by a feast of snacks, candy, and sometimes homemade treats. Midnight feasts and breakfasts feel special when shared with friends.
Games and Activities: From board games and card games to truth or dare and pillow fights, these gatherings offer a plethora of entertainment options.
Storytelling: Sharing ghost stories, personal anecdotes, or dreams and aspirations in the dim light of a room or under a makeshift tent creates an intimate and magical atmosphere.
Freedom and Independence: For younger participants, pajama parties can be a taste of independence, offering a sense of responsibility and maturity.
Themed Fun: Some pajama parties revolve around themes, such as "retro night," "spa retreat," or "book club," adding an extra layer of excitement to the evening.
Relaxation: Amidst all the fun and games, there's also the simple joy of lounging in comfy pajamas, perhaps listening to music or chatting, offering a break from the hustle and bustle of regular life.
Pajama parties encapsulate the essence of friendship, fun, and freedom. They offer an escape from routine and create a space where memories are made, laughter is shared, and bonds are deepened. No wonder they remain a favorite way to spend the night for many!