Pegasus Barbie
New original magic princess tale told with 3d enhanced animated movie released with themed dolls, playsets, and accessories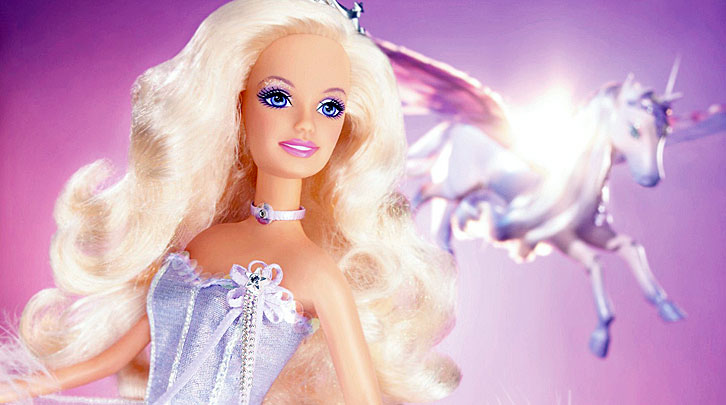 In 2005, Barbie doll returned to the small screen in the Barbie brand's original princess tale and 3-D enhanced, animated film, Barbie and the Magic of Pegasus. The Barbie princess movies inspire imaginations and encourage girls to explore their creativity through the arts.
The DVD was the Barbie brand's first to include scenes in 3D. It's also Barbie doll's first-ever original princess story, casting her as the courageous Princess Annika amidst the clouds of the exquisite Magical Cloud Kingdom. In addition to the animated movie, an entire line of products including princess dolls, winged horses and playsets will intrigue girls and help bring this enchanting new tale to life at play.
"The mission of Barbie entertainment is to inspire the imagination of girls everywhere and make various forms of the arts accessible and relevant to them. Barbie princess movies have put the spotlight on dance, visual arts, classical music, song and much more, and, by doing so, girls can see how the arts fit into their own worlds," said Tim Kilpin of Mattel. "Each unique tale has also taught girls about important values such as courage, friendship, love and self-expression. This year, Barbie and the Magic of Pegasus teaches girls that there is always hope and that nothing is more powerful than family love."
Barbie and the Magic of Pegasus sends Barbie on an adventure with a new set of pals, including: Brietta the Pegasus, a magical flying horse; Rayla the Cloud Queen, the kind and gentle ruler of the Magical Cloud Kingdom; Cloud Princess Kelly, the tiny princess who "paints" the sunset; and Prince Aidan, the rugged, handsome love interest of Barbie doll's character, Princess Annika.
Continuing the tradition established in Barbie doll's first four princess movies, this beautiful film allows girls to experience a wonderful princess tale through characters and music they can relate to. To help spread the magic to young girls everywhere, Mattel partnered with teen pop sensation and Universal recording artist Brie Larson to produce Hope Has Wings, the beautiful end credit track in the film.
Girls can enjoy Barbie and the Magic of Pegasus beyond the excitement of the movie with themed dolls, playsets and accessories, providing girls with an even richer, content-filled experience.
Barbie as Princess Annika Doll: This enchanting lead character can magically change her look. Barbie doll is dressed in a gorgeous lavender gown with sparkly accents and a silvery crown. With one quick twist, girls can change the look of her dress from princess pretty to princess glam.
Prince Aidan Doll: The rugged, handsome Prince Aidan is the charming friend of Princess Annika. Prince Aidan comes with an adorable, bobble-head polar bear named Shiver.
Brietta the Pegasus: Brietta the Pegasus is a beautiful enchanted horse. She has sparkly fabric wings that gracefully flap as she glides through the air.
Little Princess Shiver: Princess Annika befriends this darling plush polar bear cub who shivers and chatters until a little girl hugs her, bringing a warm glow to her cheeks.
Rayla the Cloud Queen Doll: Rayla the Cloud Queen doll is the kind and gentle ruler of the Magical Cloud Kingdom. This multi-ethnic doll comes with a miniature flying horse companion.
Kelly Cloud Princess and Pony Assortment: Girls will be able to play out the scene of tiny princesses and ponies painting the sunset in breathtaking beautiful shades of rainbow colors with adorable Kelly Cloud Princess and Pony dolls.
Brietta the Pegasus Groom n' Glam Styling Head: Girls who love hair play will love this innovative new twist on a styling head. Girls can style the horse's long blonde mane with streaks of pink hair that magically turn purple with cold water.
Magical Cloud Kingdom Playset: The Magical Cloud Kingdom Playset comes to life in a dazzling, magical way. In this kingdom, girls can play with their Princess Annika, Brietta the Pegasus, Cloud Princess and Pony dolls, and even the Magical Mini-Ponies. The kingdom is filled with fun areas to explore, including: a vanity area for Princess Annika and Brietta the Pegasus, a dance floor where Princess Annika and Prince Aiden can dance, a playground and bedroom for a Princess Kelly doll, and a dining area.