Rainbow Horse and Princess Barbie
Barbie rainbow horse is beautiful.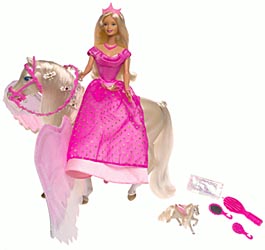 Barbie doll wears a beautiful pink satin ball gown with golden accented tulle sleeves and overskirt. She also has a beautiful crown. Princess Barbie doll is easy to dress and has molded on shoes for younger girls. Rainbow is a Barbie doll sized horse with a pearlized body and beautiful fabric wings that flap when the horse is lifted up and down. Sprinkles is a minature horse with wings perfectly sized to fit inside a pocket underneath Rainbow's wing. Sprinkles has a refilable body with small holes in the belly to sprinkle glitter. Sprinkles has a beautiful mane and tail with a touch of sparkle. Rainbow is decorated with rich jewels and an elegant saddle bridle and blanket.