Rainbow Horse and Princess Barbie
Barbie rainbow horse is beautiful.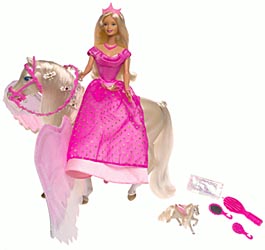 Barbie doll wears a beautiful pink satin ball gown with golden accented tulle sleeves and overskirt. She also has a beautiful crown. Princess Barbie doll is easy to dress and has molded on shoes for younger girls. Rainbow is a Barbie doll sized horse with a pearlized body and beautiful fabric wings that flap when the horse is lifted up and down. Sprinkles is a minature horse with wings perfectly sized to fit inside a pocket underneath Rainbow's wing. Sprinkles has a refilable body with small holes in the belly to sprinkle glitter. Sprinkles has a beautiful mane and tail with a touch of sparkle. Rainbow is decorated with rich jewels and an elegant saddle bridle and blanket.
The Enchanted World of Rainbows: Through a Child's Eyes
Rainbows, with their vibrant spectrum of colors arching across the sky, have always captivated the human imagination. For children, especially, rainbows hold a deep sense of magic and wonder. Let's explore the enchanting significance of rainbows to young minds:
Symbol of Hope: Just as rainbows often appear after storms, they can symbolize hope and brighter times ahead. Children instinctively grasp this idea, viewing rainbows as reassurances that even after tough times, beauty and joy can emerge.
Tales and Legends: Folklore and stories from around the world feature rainbows. Tales of leprechauns with pots of gold at the rainbow's end, or bridges between worlds, fill children's imaginations with adventurous quests and magical beings.
Gateway to Fantasy: The ethereal quality of rainbows, appearing and fading away, can be seen as gateways to other worlds or realms. Children often imagine what lies beyond a rainbow, conjuring up fantastical lands and characters.
Artistic Inspiration: The vibrant colors of a rainbow inspire creativity. Children love drawing, painting, and crafting rainbows, letting their imaginations run wild with swirling colors and patterns.
Scientific Curiosity: For some children, the appearance of a rainbow is their first introduction to the wonders of science. They become curious about how rainbows form, delving into the interplay of sunlight, raindrops, and the science of refraction.
Representation of Unity: The seamless blend of colors in a rainbow can teach children about unity and harmony. Each color, while distinct, comes together to create a beautiful whole—a metaphor for diversity and unity.
Moment of Presence: The fleeting nature of rainbows, appearing only for a short time, encourages mindfulness. Children, captivated by their beauty, often stop whatever they're doing to admire and be present in the moment.
Magical Memories: Seeing a rainbow can become a cherished memory for a child. It's a spontaneous, natural event that can turn an ordinary day into something special and memorable.
Rainbows are a blend of art, science, legend, and emotion. For children, they evoke a sense of wonder that merges the boundaries of the known and the unknown. They serve as beautiful reminders of the magic in nature and the infinite possibilities that the world holds, sparking imagination, hope, and joy in young hearts.