Barbie So In Style
African American Barbie fashion dolls Grace, Trichelle, and Kara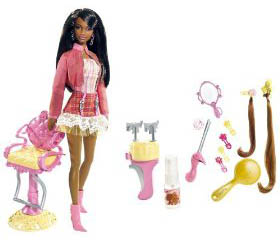 Barbie So In Style Styling Hair dolls feature aqua curl fiber that makes the dolls hair go from straight and sleek to fabulous curls, and from curly to straight again. Each S.I.S. doll comes with a stylist chair, hair braiding tool, hair extensions, clips, brush and more styling items to make them glamorous for a night out on the town.
The Evolution of Diversity in Barbie Dolls
The Barbie doll, introduced by Mattel in 1959, has undergone significant transformations over the decades, especially in terms of diversity. Here's a brief overview of the journey of diversity in Barbie dolls:
1960s and 1970s: The initial versions of Barbie were predominantly Caucasian with blonde hair. However, by the late 1960s, Mattel introduced Christie, the first African-American Barbie doll. Around the same time, Barbie's friend Teresa, a Hispanic doll, was also introduced.
1980s: The 80s saw more inclusivity in terms of facial structures, with Barbie dolls reflecting a wider variety of ethnicities, including Hispanic and Asian features.
1990s: Mattel continued expanding its range of dolls to represent more diverse backgrounds and ethnicities. Special edition dolls representing various countries and cultures were also launched, celebrating traditional dresses and customs.
2000s: Mattel made further strides in offering a broader range of skin tones, hairstyles, and features. Barbie's body shape, however, remained a point of contention, as many believed it portrayed an unrealistic body image for young girls.
2010s: In 2016, Mattel unveiled the most significant change in Barbie's history with the introduction of the "Fashionistas" line. This line included dolls with four different body types (original, tall, curvy, and petite), seven skin tones, 22 eye colors, and 24 hairstyles. The intention was to reflect the diversity and inclusivity of the modern world more accurately. This decade also saw Barbie dolls representing people with disabilities, like dolls with prosthetic limbs or in wheelchairs.
2020s: The commitment to diversity continued into this decade, with an increasing number of Barbies representing various professions, cultures, backgrounds, and even highlighting real-life role models from different fields.
While Barbie has faced criticism over the years for various reasons, including issues related to body image and representation, Mattel's steps toward diversity reflect an effort to stay relevant and resonant in an ever-evolving society. The brand's journey mirrors the broader movement of recognizing and celebrating diversity in all forms in the toy industry and beyond.