Barbie Style Salon
Barbie Style Salon playset with hair color and shampoo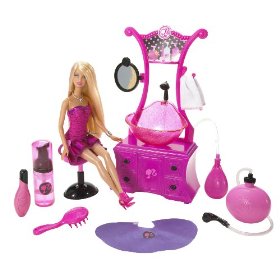 Play out all the fun of star stylist and a day at the salon with Barbie doll at her style salon. Wash Barbie dolls hair in the real working glitter sink and pink stylist's vanity, add color streaks and create glam hairstyles with fun hair styling tools. Includes salon chair, hair detangler, logo poncho, towel, and salon Barbie doll.
The Fun of a Style Salon Playset
A style salon playset can be a delightful toy for children, offering a blend of creativity, role-playing, and hands-on tactile fun. These playsets often simulate the experience of running or visiting a beauty salon, with various tools and accessories to enhance the play. Here's a breakdown of why they're so enjoyable:
Creative Expression: Style salon playsets allow kids to experiment with different hairstyles, colors, and looks. Whether it's braiding, curling, or creating up-dos, children can freely use their imagination to design unique hairstyles, fostering their artistic skills.
Role-Playing: Children can step into various roles, such as a hairstylist, a customer, or even a salon manager. Role-playing helps develop empathy, as children put themselves in another's shoes, and it also builds communication and social skills.
Tactile Engagement: Using various tools like brushes, hairdryers, or clips gives kids a chance to enhance their fine motor skills. The hands-on nature of the playset is great for kinesthetic learners who thrive on touch and movement.
Real-Life Simulation: Playsets offer a safe environment for kids to mimic adult activities. It can be fascinating for them to emulate the experience of visiting a salon, something they might have seen or experienced in real life.
Social Play: Style salon playsets can be more fun with friends or siblings. Group play encourages children to collaborate, share ideas, and work together, building teamwork and cooperative skills.
Boosting Self-Esteem: Successfully creating a hairstyle or look can offer a sense of achievement. This can be a confidence booster, allowing children to be proud of their creations.
A style salon playset offers a holistic play experience that caters to various aspects of a child's development, from creativity and cognition to motor skills and social interaction.