Super Slide Kelly
Watch as Kelly goes flying down the waterslide on her raft, landing with a splash into the pool below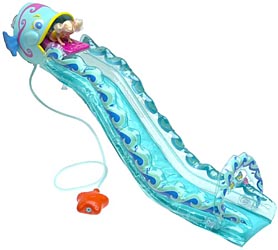 Splish, splash. Barbie's little sister Kelly is sliding in the bath! Included in this fun set are a small Kelly doll, a pink raft, and an inflatable light blue waterslide--with a fish head at the top--that attaches via suction cups to the wall above a bathtub. An orange starfish-shaped pump causes water from the tub to move up into the fish's mouth, sending Kelly down the slide. At 4 inches tall, Kelly has blue eyes and two blonde pigtails. Wearing a yellow swimsuit fringed with a pink skirt, she's ready to get wet. Because it's designed for use in the bathtub, this toy requires adult supervision Kelly doll can slide down her inflatable water slide and float around on her raft. The fish friend has suction cups, so it can attach to the side of a bathtub of shower. When a girl pumps the starfish underwater, Super Slide Kelly doll slides down the water slide on her raft. The raft really floats, so Kelly can also play in the water on her raft. Catch a wave with Barbie's little sister Kelly. You can make a slide from any sink or bathtub. Just attach the inflatable slide to the wall using suction cups. Add a little water and Kelly goes sliding down the hill. What fun. When she's tired of sliding, this water baby can relax on her raft.
The Thrill of Water-Powered Super Slides
Super Slide Kelly evokes real-world water-powered super slides, often featured in water parks and summer adventures, a symbol of pure exhilaration for many. From the anticipation at the slide's entrance to the rush of water and the joyous splash at the end, these slides offer a myriad of sensations. Let's dive into what makes them such an adrenaline-packed delight:
Speed and Sensation: One of the primary draws of super slides is the speed. The feel of water rushing beneath, combined with the force of gravity, offers an almost weightless sensation that sends the heart racing.
Cooling Off: On a scorching summer day, there's nothing like the refreshing embrace of water. Super slides not only offer fun but also a much-needed respite from the heat.
Adventurous Spirit: Climbing to the top, looking down at the steep drop, and then taking the plunge requires a dash of courage. It's an adventure that challenges and excites, especially for first-timers.
Bonding and Shared Memories: Whether it's friends daring each other to try the tallest slide or families laughing over the hilarious splashes, these moments become shared memories that strengthen bonds.
Varied Experiences: Many water parks offer a range of super slides, from twisty-turny rides to near-vertical drops. This variety ensures that everyone, from thrill-seekers to those looking for milder fun, finds something to enjoy.
Physical Activity: Climbing up to the slide's start point multiple times is a good workout! While it might not be a traditional exercise, it's a great way to stay active.
Endorphin Release: The exhilaration and fun from sliding down lead to the release of endorphins, the body's natural feel-good chemicals. It's why so many come out laughing and eager to ride again.
Escapism: Sliding down with water splashing around allows a momentary escape from everyday worries. It's a chance to be in the moment, feeling both the rush of adrenaline and the joy of play.
Water-powered super slides offer a blend of physical sensations, emotional highs, and unforgettable memories. They're not just about the brief moments of descent but also about the overarching experience of joy, challenge, and shared delight.