Twilight Barbie
Barbie doll Bella Swan or Ken doll Edward Cullen characters from the feature film Twilight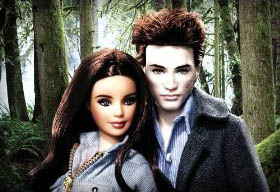 Barbie doll based on the character Bella from the feature film Twilight, the hit movie based on the number one New York Times best selling book series Twilight. Twilight Barbie looks just like the simple but sophisticated Bella Swan. Sure to be a runaway collectible, this memento of your favorite romance will be a doll you won't want to lose. Barbie and Ken the way you want them to be. Memorialize the tale of teenage romance between mortal Bella Swan and the intriguing vampire Edward Cullen with a collectible doll that you can pass down the generations.
Bella Swan from the Twilight Saga
Isabella Marie "Bella" Swan, later known as Isabella Marie Cullen, is the central character and the protagonist in Stephenie Meyer's "Twilight" series. Portrayed by actress Kristen Stewart in the film adaptations, Bella's character evolves from a quiet and clumsy teenager to a strong and self-assured woman by the end of the series. Here are some defining traits and characteristics of Bella Swan from the movies:
Introverted and Independent: Bella is often described as introspective and prefers her own company or that of a close-knit group of friends. She moves to the small, rainy town of Forks, Washington to live with her father, primarily to give her mother a chance to travel.
Loyal and Protective: Throughout the series, Bella consistently demonstrates fierce loyalty to her loved ones, whether it's her human friends, her vampire family, or her child. She often places their needs and safety above her own.
Love Story with Edward: The central plot of the "Twilight" series revolves around Bella's intense romantic relationship with Edward Cullen, a vampire. Their relationship faces numerous challenges, primarily because of their different natures and the inherent risks of a human being in love with a vampire.
Transformation into a Vampire: Later in the series, to save her life and be with Edward forever, Bella chooses to become a vampire. Her transformation brings about newfound abilities and challenges.
Motherhood: Bella becomes a mother to Renesmee, a half-human, half-vampire child. Her fierce protective instincts amplify when her child faces threats from the vampire community.
Relatable Teenage Anxieties: Despite the supernatural elements in the series, Bella's character deals with many typical teenage anxieties such as fitting in, relationships, choices about the future, and self-identity.
In both the books and the movies, Bella Swan's character development is central to the unfolding of the story, with her journey from a human to a vampire serving as a backdrop to themes of love, sacrifice, and self-discovery.