Bathtub Fingerpainting Kit with Bath Tub Finger Paint
Bathtub Finger Painting Kit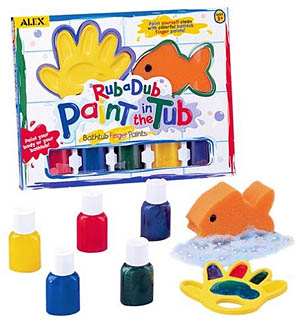 Most painters have to clean up after they're done, but with this set of five bright finger-paint soaps, you can paint and get clean at the same time. Squeeze a dab of each color into the enclosed hand-shaped artist's palette and you're all set to turn your tub into an impressionistic masterpiece. When it's towel time, wipe the pigment away using the included fish-shaped sponge. Don't forget to wear a beret in the tub for the right effect. Paints are orange, blue, yellow, green, and purple. They are not heavily scented, and the pigments are child friendly.
Fingerpainting is a timeless and joyful activity that has been inspiring creativity in children for generations. It is more than just a fun pastime; it's a valuable educational tool that offers numerous benefits:
Tactile Exploration: By using their fingers to paint, children engage in sensory exploration, feeling the texture and consistency of the paint. This tactile experience stimulates their senses and enhances their perception of touch.
Unleashes Imagination: Fingerpainting allows children to express themselves freely without the constraints of brushes or tools. They can create abstract shapes, patterns, and images, letting their imagination run wild.
Develops Fine Motor Skills: The act of manipulating paint with fingers helps in developing fine motor skills and hand-eye coordination. It's an excellent way for young children to gain control over their hand movements.
Promotes Emotional Expression: Children can use fingerpainting to convey their emotions and feelings. Whether they are happy, sad, or excited, they can translate those emotions into colorful artwork.
Encourages Experimentation: With fingerpainting, children can experiment with color mixing, layering, and different techniques. It fosters a sense of curiosity and a willingness to try new things.
Enhances Social Skills: Fingerpainting can be a collaborative activity where children work together on a shared piece of art. It teaches them teamwork, communication, and how to respect others' ideas.
Builds Confidence: Since there are no right or wrong ways to fingerpaint, children can create without fear of judgment. It builds self-confidence and a positive attitude towards creativity.
Eco-Friendly and Safe: Fingerpainting can be done with non-toxic and washable paints, making it a safe and environmentally friendly activity for children.
Fingerpainting is a gateway to creativity, learning, and personal growth. It's a celebration of freedom, expression, and the joy of being a child. Whether at home, in school, or at a community event, fingerpainting continues to be a cherished and meaningful way to inspire creativity in children of all ages.