Battle RC Air Rebound
Remote-controlled stunt toy.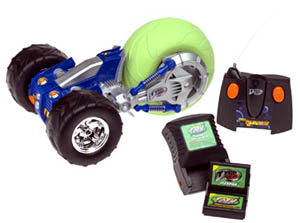 The Air Rebound is a remote-controlled stunt toy that's hard to describe but very easy to like. Imagine a futuristic 12-by-7-inch car body with no windows, no difference between top and bottom, and three tires, including one jumbo, neon green tire that measures 6.5 inches in diameter and 3.5 inches thick. Zoom it, turn it, jump it, flip it, and crash it--the Air Rebound doesn't seem to care about niceties like whether it's moving forward, backward, or upside down. Mere cars suddenly look pretty dull. The Air Rebound runs exclusively on a TMH Flexpak rechargeable battery system (included in this special bundle pack), but you'll also need a 9-volt battery (not included) to power the transmitter. The Air Rebound is available in two frequencies so you can stage races between vehicles with different frequencies. Before you can operate the vehicle, you'll need to use a pump (not included) to inflate the oversize green tire.